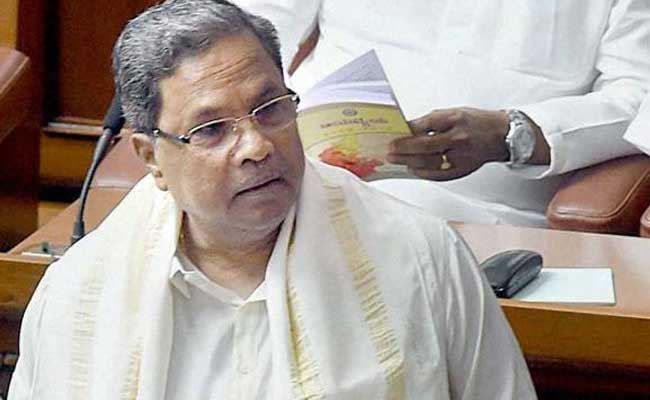 Highlights
Karnataka misses top court deadline on water sharing with Tamil Nadu
Supreme Court had ordered Karnataka to release water starting Oct 1
Siddaramaiah says state legislature to discuss order on Monday
Bengaluru:
Karnataka Chief Minister Siddaramaiah has said that a special session of the state legislature on Monday will discuss sharing of Cauvery water with Tamil Nadu, despite Supreme Court's strict directive to release water starting October 1.
The chief minister said his government was not defying the top court's order and was bound by a resolution passed by the state legislature that water will be released from reservoirs in the Cauvery basin "only for drinking water requirements"
"We have not defied the orders of the Supreme Court. There is no willful or deliberate disobedience," Siddaramaiah said, adding, "All-party meeting has told us not to release the water. We have to go back to the legislature."
The Supreme Court had reprimanded Karnataka and warned it against any further defiance in releasing 6,000 cusecs of water to Tamil Nadu for six days. The court had also ordered the centre to form a Cauvery Management Board to mediate a solution between the states.
Siddaramaiah has said that his government will question the legitimacy of forming the board through a review petition on Monday.
"Our argument since the beginning is that Management Board cannot be created," the chief minister said. The top court had set a 4 PM deadline for both Karnataka and Tamil Nadu to declare their nominee for the board.
He further said that the order was "defective" because Kerala and Puducherry, the two other riparian states - who share land along the Cauvery River - were not informed.
"They (TN) have said that three-judge bench can decide on it (the Board), but here two-judge bench has done this. Also, notices were not issued to Kerala and Puducherry (riparian states). In their absence, this order has been passed," Siddaramaiah said.
At the second all-party meet held on Sunday, the opposition again pressed the government to not release water to Tamil Nadu.
"We should not obey the Supreme Court order at any cost as it is unimplementable. The House (legislature) decision should be upheld. Government should stick to the decision," the Opposition Leader in the Assembly Jagadish Shettar said.
The opposition has said they are with the government and are ready to face the consequences of defying the order.