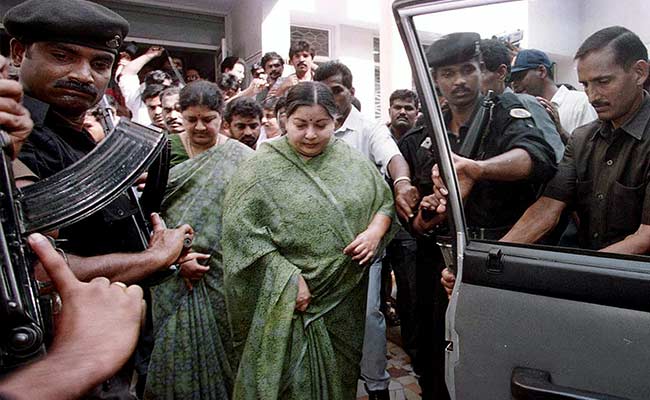 New Delhi:
The Karnataka government moved the Supreme Court on Tuesday seeking a review of its verdict that did not rule on former Tamil Nadu chief minister J Jayalalithaa's role in the disproportionate assets case. The state argued that it would be impossible to recover the 100 crore penalty imposed by the court unless she too was held guilty.
Last month, the top court had set aside the Karnataka High Court order acquitting the four accused in the case, including Jayalalithaa's close aide VK Sasikala and "restored in toto" the trial court's decision convicting them in the 19-year-old case.
In its plea, the state government has contended that the top court's February 14 decision to abate proceedings against Jayalalithaa after convicting her aide VK Sasikala was an "error apparent on the face of record".
Along with Sasikala, the court had convicted two others in the case while ending proceedings against Jayalalithaa as she had died. The court had, however, made clear that the fine imposed on her can be recovered.
The top court had upheld the special trial court verdict which had found disproportionate assets worth Rs 53.60 crore, which Jayalalithaa and the three others could not account for. The CBI had alleged that the unaccounted wealth was to the tune of Rs 66.65 crore.
It said a criminal appeal in graft cases is on a different footing as there is allegation of acquisition of disproportionate assets by a public servant.
The plea said that the abatement of proceedings was erroneous as there is no provision either in the Constitution or the Supreme Court rules for it.
Jayalalithaa was sentenced to four year jail term along with Rs 100 crore fine by the Bengaluru court. 60-year-old Sasikala has to serve a jail term of around three-and-half years out of four years awarded by the trial court as she has already spent almost six months in prison.
The conviction of Sasikala's two relatives V N Sudhakaran and Elavarasi were also upheld by the apex court and they were directed to surrender forthwith to serve their four-year term.