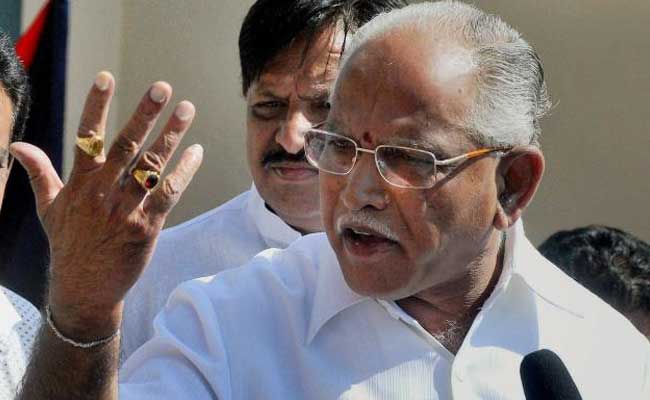 Bengaluru:
Former Chief Minister and the BJP's face in Congress-ruled Karnataka, BS Yeddyurappa, has been named in a corruption case by the state's Anti-Corruption Bureau. The case involves the change of land use of a huge 257-acre tract in near Yelahanka in north Bengaluru in 2008, when Mr Yeddyurappa was the Chief Minister. From agricultural land, it was converted to non-agricultural land, which led to a loss of crores to the state government.
The Anti-Corruption Bureau filed the First Information Reports on Wednesday and Thursday. The timing, say critics, have raised questions, just as the timing of Income Tax Department's raids on Congress minister DK Shivakumar, was thought by some to be politically motivated. The minister was looking after a group of Congress lawmakers from Gujarat, who had been whisked away by the party to a resort in Bengaluru earlier this month ahead of the Rajya Sabha elections in the state.
Mr Yeddyurappa is set to lead a campaign on Friday against the alleged corruption in the Congress government. The march -- from freedom park to vidhan soudha, a 1,2 km march through the central part of the city - will be held with a demand that the "corrupt ministers in the Congress government" step down, the BJP has said.
The BJP's first chief minister in a southern state, Mr Yeddyurappa had to step down following charges of corruption. Soon after, he quit the party to form the Karnataka Janata Paksha, but came back to the fold 14 months later with his supporters.
The 74-year-old Lingayat leader, who had led the party to victory in the 2008, had again been confirmed as the party's Chief Ministerial candidate for the coming assembly elections in the state by party chief Amit Shah. He has also been put in charge of the party's campaign in the state.
The Anti-Corruption Bureau was formed by the Congress government in a move that was criticised by some as weakening the position of the office of the state Lokayukta -- the earlier anti-corruption body.