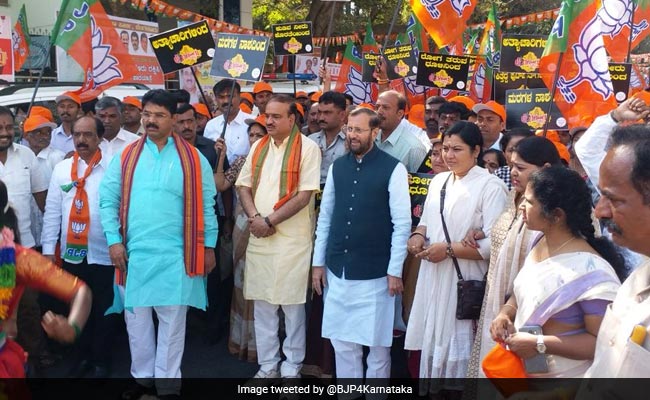 Bengaluru:
Launching a blistering attack on the ruling Congress, the BJP today launched its 14-day 'protect Bengaluru' march here, with a call to save the city from that party's "misrule."
The 'Bengaluru Rakshisi Padayatre' that will criss-cross the city till March 15 is aimed at "reviving" and "rebuilding" the city from Congress's "criminal neglect," the party said.
The march was kicked-off by Union ministers Prakash Javadekar and Ananth Kumar in the presence of former Deputy Chief Minister R Ashoka at Basavanagudi here after offering prayers at historic Gavi Gangadhareshwara Temple.
Launching the yatra, Mr Javadekar asked the people to choose between good governance of BJP and "goonda raj" of the Congress.
"Modi (Prime Minister Narendra Modi) is known for good governance, Congress is known for goonda raj..so you have to choose goonda raj or good governance," he said.
The Union minister also urged the people to "protect Bengaluru," because Bengaluru "deserves much better", as he slammed the Siddaramaiah-led Congress government for indulging in "arrogance of power."
"Bengaluru will root out this arrogance of power, we are confident of it," he said, adding, the yatra was against "goondaism, traffic jam, law and order failure, potholes on the city roads and condition of lakes in Bengaluru."
Referring to BJP governments in various states, Mr Javadekar asked the people to ensure that "next is Karnataka BJP."
The party with this march is aiming to strengthen its prospects in the city that has 28 assembly seats, for the coming assembly polls expected in April/May.
This is the second march launched by the BJP, the first being the 85-day "Parivarthana Yatra" that concluded on February 4.
The yatra criss-crossed all 224 assembly constituencies in the state and virtually sounded the bugle for the coming assembly polls in the state.
Mr Kumar said the party launched the yatra today to say that what Bangaluru wants is "Modigiri and not goondagiri."
Hitting out at BJP's yatra, Chief Minister Siddaramaiah described it as an attempt to give "wrong information to people for political gains."
Questioning as to what BJP had protected in Bengaluru while in power, he said "They have to first say what they have protected and then say what needs to be protected."
He asked BJP leaders to also tell people about their "misgovernance" in Bengaluru while in power.