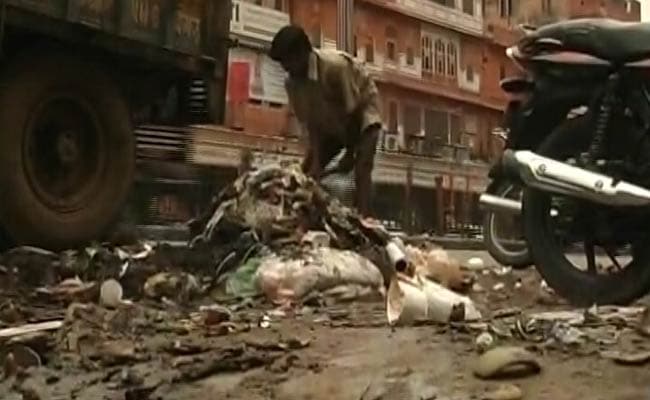 Jaipur:
Despite being one of the top tourist destinations in India, Rajasthan is slipping in India's cleanliness index.
One out of three foreign tourists who come to India also visits Rajasthan. Its capital Jaipur, famous as the Pink City for its rose-hued sandstone structures, is among the ten most visited cities in the country.
But Jaipur came in at an abysmal 370 out of the 476 cities surveyed in the country for the Swachh Bharat Rankings.
Udaipur another tourists hotspot famous for its lake and hotels, did even worse at 417 while home of the majestic Mehrangarh Fort, Jodhpur, came at 337.
But the worst of the lot was Chittorgarh, where hundreds of tourists go to see the historic Chittor Fort, is sixth last in the list.
As one drives through Jaipur, richly dotted with one-of-a-kind monuments, it is easy to see heaps of garbage and cows on the road.
Said Oxanna, a French tourist, when asked whether she thought of Jaipur as clean or dirty, "Dirty. I am sorry but it's dirty because people don't have culture to clean."
Another tourist traveling with her from France, Amy said, "Its people who just throw things on the road. I see cleaning happening in the morning but people make it dirty again."
But Jaipur's mayor Nirmal Nahata said, "The government was committed one hundred percent to make Jaipur clean. In the ranking some other parameters were included which were outside our purview that's why we did not do well."
"Now we plan to introduce mechanize sweeping of roads and machines that will be able to lift garbage from narrow streets. From the 15th of august Jaipur will also have in place a door to door garbage collection facility," he said.
The Swachh Bharat Rankings looked cities for their performance in terms of open defecation, solid waste management and the quality of drinking water.
The survey, conducted during the past year, was commissioned by the Ministry of Urban Development.