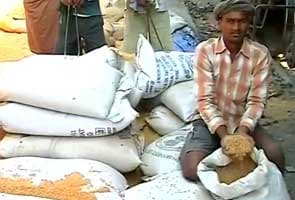 Jaipur:
Large quantity of wheat that was procured from Punjab and was being transported to a Food Corporation of India or FCI godown in Jaipur has turned out to be rotten. Rajasthan Governor Margret Alva has sought a report from procurement agency FCI on complaints about bad small emanating from the grain.
Close to 55,000 sacks or 2500 metric tonnes of wheat was brought to Jaipur's Kanakpura railway station from Punjab , but the foul smell emanating from the bags alerted residents and daily wage labourers at the station.
"Ye to sad gaya hai. Gareeb admi ko denge to beemar ho jayega (this wheat has rotten. If it is given to the poor, they too will fall sick," said Sanjeev Kumar, a labourer hired to transport the grain, complaining about the smell. He also said he was pained to see that the government plans to distribute wheat unfit for consumption to the poor. "It is unfit for human consumption," he added.
It is difficult to estimate exactly how much of the wheat is rotten. The administration has swung into action after news reports and FCI staff are now doing a quality check. They say they will differentiate the good grains from the ones gone bad and this way unfit wheat will be discarded.
"We have just started segregation process, we ensure that thorough quality check will be done and no rotten wheat will be issued to the public. Actual quantum of rotten wheat we will come to know later," said Chandra Kant, the quality control manager from FCI who was at the railway station this morning.
There are 174 FCI godowns in Rajasthan and officials say wheat that is discarded is on an average 0.05 % of the total that is procured. But given the condemnation the FCI has got, Rajasthan Governor Magaret Alva too has now asked for a report on the matter
"There is 80 million metric tonnes of wheat in FCI godowns in the country, a substantial amount of which lies in the open. After the kharif procurement, this will grow to 100 million metric tonnes. And while procurement remains, constant distribution is lagging far behind. The paradox is that the country has a large number of malnourished and hungry people who don't have access to this foodgrain as distribution system is completely flawed, " said Kavita Srivastava, a PUCL or People's Union for Civil Liberties activist. He is also the convenor of the National Campaign for Right to Food.
As of now, India has five times the buffer stock it needs. It is the world's second-biggest rice and wheat producer, but is continuously grappling with storage problems due to bumper harvests in recent years.