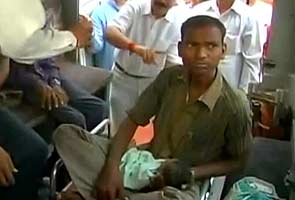 Jaipur:
One-month old Damini, at least 1.5 kilos underweight, is still in critical condition in hospital. But the baby, who till two days ago was strapped by her father to his chest as he pulled a rickshaw in Rajasthan, now has a whole country looking after her.
In response to a story posted on ndtv.com on October 19
(Read)
, NDTV viewers and our website's users have electronically transferred more than Rs 9 lakhs to her father's account.
"When she grows up, I will send her to school. I don't want her to grow up on the streets. I want a proper upbringing for her," baby Damini's father Babloo, who earns Rs 400 to 500 a day, told NDTV over the weekend.
The Rajasthan government has offered to cover all her medical expenses. Baby Damini was admitted to a private hospital, Fortis, in Jaipur. She is severely malnourished, weighing just 1.4 kilos, and has been diagnosed with blood infection along with septicemia, pneumonia and renal failure. Doctors say she will need to spend many more days in their supervision.
Chief Minister Ashok Gehlot said, "Her father is a rickshaw puller, so we will look after him. It's a very sensitive case. First, we want the baby to survive and recover. "
Till last week, Babloo used to be seen at work, hauling a cycle rickshaw with his newborn daughter attached in a makeshift sling to his chest. His wife died giving birth to Damini on September 15. He has no close family members who lived near enough to look after her.