Kansas:
Highlights
The hate crime took his friend's life, while he got seriously injured
Alok Madasani was advised to stay indoors and avoid public places
But he says that he can't let those 20 seconds win and live in fear
"I keep thinking what if we hadn't gone out that night. What if we had stuck to going out on Fridays as we usually did and not that Wednesday. Would this not have happened then, would we not have met the angry, bitter man."
32-year-old Alok Madasani says he lives over the evening of February 22 time and again in his mind... the evening he was out with his closest friend Srinivas Kuchibhotla at one of their favourite local pubs, Austin's, having a drink while a basketball match played on a big screen.
But tragedy was lurking... Mr Kuchibhotla was shot and killed in a racial attack by 51-year old US Navy veteran Adam Purinton, who yelled, "Get out of my country," as he fired.
Mr Madasani was also shot, injured and hospitalised.
"In the nine years that I had known him, I never once saw Srinivas get angry. He was mellow, very friendly and never lost his temper. We all do with our siblings, parents even friends, but not him. That is how I will always remember him."
He misses his friend. He cherishes the relationship that goes back a decade. Mr Madasani says he can go on and on about memories of Mr Kuchibhotla, Mr Nice as he was known as. The second son in a family of three boys, he was career oriented and wanted to make his parents proud, Mr Madasani said.
Speaking to NDTV, Governor of Kansas Sam Brownback described the incident as embarrassing and said his state has thrived because of the work done by people like Mr Kuchibhotla. In a letter to Prime Minister Narendra Modi, the governor quoted 'Satyamev Jayate' saying they are committed to peace and justice.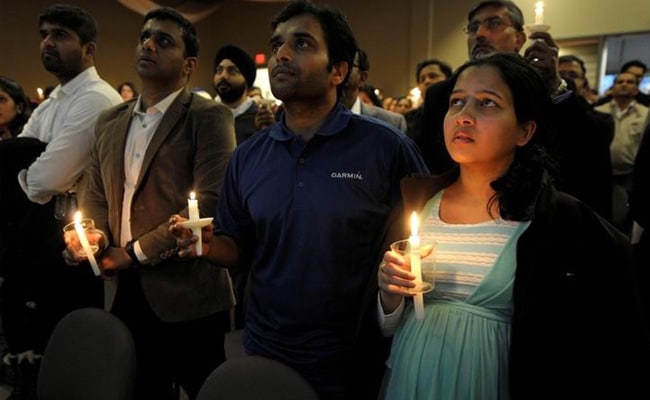 Alok Madasani (centre) says that he wants to teach people courage, not fear.
But the incident hasn't altered Mr Madasani's perception of America. "It hasn't been easy. I am not normal yet but my perspective on America hasn't changed."
He says people said they shouldn't go out for a few weeks, stay indoors and avoid public places. But it's a sentiment he disagrees with strongly.
"I wanted to set an example. Didn't want to be that guy who says this happened so we'll have to live in fear...If we do that, those 20 seconds have won. I want to teach people courage, not fear," he said.