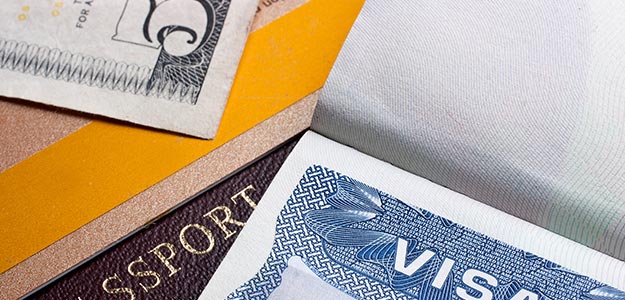 Highlights
For years Raju Kosuri a visa-for-sale system using the H1-B program
The 45-year-old will spend 28 months in federal prison
After his sentence, he will be deported along with his wife and son
A Virginia businessman who used shell companies to fraudulently apply for nearly a thousand foreign workers' visas will spend 28 months in federal prison before he is likely deported to India.
Also, his wife and U.S.-born son are being sent back.
For years Raju Kosuri ran what prosecutors in Alexandria, Virginia, federal court described as a visa-for-sale system using the H1-B program for specialized foreign workers, making over $20 million in the process. He
pleaded guilty last year
to visa fraud and making false statements.
President Donald Trump has frequently criticized the H1-B program, at times suggesting he would eliminate it altogether.
Kosuri, 45, was initially facing far more prison time as leader of the fraud conspiracy. Judge Leonie M. Brinkema said in court Friday that problems with the prosecution of the case led to a more lenient sentence, but that she had to send a message to anyone considering similar malfeasance.
The H1B-visa program "has the potential to yield great financial rewards," the judge said. "The temptation is there."
Kosuri's wife, Smriti Jharia, 46, is one of the immigrants he illegally sponsored. She pleaded guilty to falsely obtaining naturalization and agreed Friday to move back to India immediately and give up her American citizenship. She said their son, a native U.S. citizen who has never lived in India, will go with her.
Steve McCool, Jharia's attorney, said his client "was grateful that she was permitted to voluntarily remove herself from the United States. Unfortunately, her son has to pay a heavy price for her criminal conduct."
Charges against three other defendants allegedly involved in the scheme were dismissed after Brinkema found prosecutors had failed to turn over relevant evidence, according to court records. A sixth defendant was allowed to withdraw her guilty plea; she went to trial earlier this month and a verdict has not yet been reached.
"This has been a long and unusual case," said Kosuri's attorney, Stuart Sears. "He regrets his conduct, and he and his family have paid a tremendous price."
Starting in 2000, Kosuri launched over a dozen businesses that claimed to provide information technology services out of Danville, Virginia. In fact, he admitted they existed merely as vehicles to get visas for Indian nationals who would actually work elsewhere.
Kosuri, who immigrated from India in 1999 and was a lawful permanent resident, was paid millions by the companies where those visa recipients worked. Kosuri also obtained millions in bank financing by misrepresenting his business, as well as a $500,000 grant from the Virginia Tobacco Commission. He and his wife tried, mostly unsuccessfully, to win federal contracts through the Small Business Administration through one of the companies.
Seventy-one percent of H-1B visa recipients came from India in 2015, according to a 2016 DHS. Giant multinational outsourcing firms based in India every year submit tens of thousands of applications for workers in the technology and engineering fields.
"If fraud like the [Kosuri's] becomes too prevalent, the result may be that the H-1B process is severely cut back," Assistant United States Attorney Jack Hanly wrote in a court filing. "That would be a major setback for those who use the program honestly and benefit from its availability."
In April Trump ordered a review of the H-1B visa program and announced new steps to combat fraud and abuse, including unannounced site visits to companies with a high ratio of workers from the program.
(This story has not been edited by NDTV staff and is auto-generated from a syndicated feed.)