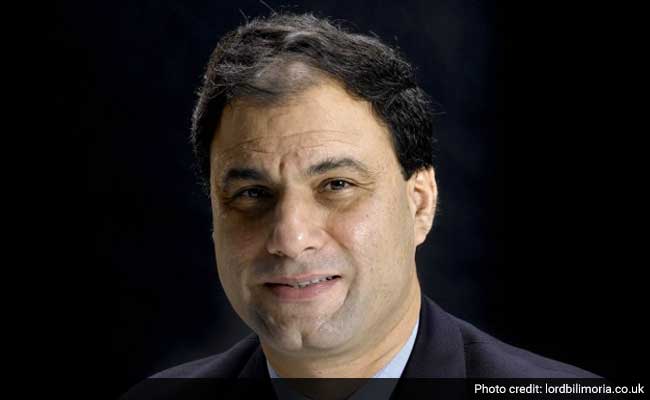 London:
Leading NRI entrepreneur Lord Karan Bilimoria has been awarded as the International Indian of the Year for 2014-15 for his outstanding achievements in the fields of business and education.
India's Deputy High Commissioner to the UK, Virender Paul presented the award to Lord Bilimoria at a gala ceremony in London over the weekend was organised by monthly publication India Link International.
Lord Bilimoria is the founder of Cobra Beer, Chairman of the Cobra Beer Partnership Limited, a joint venture with Molson Coors, and Chairman of Molson Coors Cobra India.
He is the Founding Chairman of the UK-India Business Council, a Deputy Lieutenant of Greater London, a former Chancellor of Thames Valley University (now the University of West London). He was the youngest University Chancellor in the UK when appointed.
Sarosh Zaiwallia, founder of Zaiwalla and Co. Solicitors, London, received the award for International Indian Life-time services to the legal profession.
Other award recipients included Uma Wadhwani (International Indian Business Woman of the year); Captain Nalin Pandey, Managing Director of Pentagon Marine Services (International Indian Lifetime Services to Maritime Trade India and the World 2014-15); Ravinder Singh Gidar, Founder Golden Care Homes (International Indian Promoting Healthcare for elderly).
Pravinkant Amin (International Indian Promoting Community relations Worldwide); Bajrang Bahadur Mathur, Architect and Town Planner (International Indian Promoting Tourism through writing and art); and Sanjay Wadhwani, Managing Director, Wanis (International Indian Young entrepreneur 2014-15) were also awarded.
Delivering the India Link International annual lecture, Lord Bilimoria, who is also the Chancellor of the University of Birmingham, noted that the current immigration rule is wrong and it is harming the British universities as Non-European students, including those from India, prefer to study in other countries like the US.
"If you ask the British whether non-EU students should be allowed to work after their studies, 75 per cent will respond positively," he said.
Referring to India-UK relations, he said the Indian Prime Minister Narendra Modi is expected to visit the UK in "autumn".
He also said that "universities in the UK are some of the best in the world and institutions this country has is phenomenal and world-class. British brands need to be promoted more and it has amassing manufacturing capabilities."