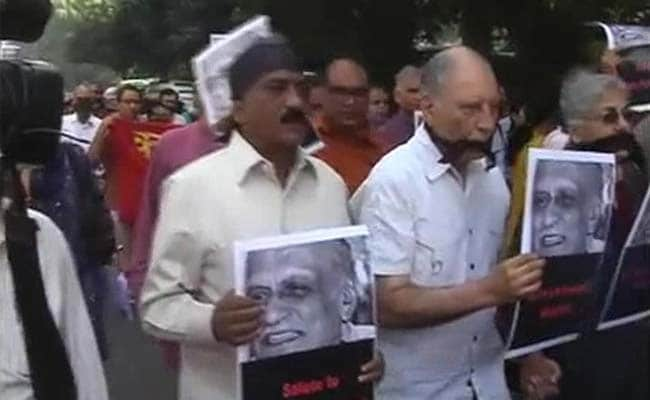 Singapore:
A Singapore-based Indian author has launched a short-story book, dedicating it to the writers, filmmakers and intellectuals who are protesting against growing intolerance in India.
"My dedication is in solidarity with the writers, filmmakers and intellectuals who are protesting against the rising tide of intolerance in India," said Zafar Anjum, who last week launched 'Kafka in Ayodhya and Other Short Stories' at the Singapore Writers Festival.
"It is dedicated to the wounded 'Idea of India'," said Mr Anjum.
He said that during his recent travel across India, he found "people disturbed over elements that threatened the harmony of the country".
"But the good news is that people of India are fighting back such elements and they will not allow the secular character of the country to be changed," said Mr Anjum.
The book, launched by Mr Anjum's publishing company Kitaab on November 7, has a collection of eight stories, some real and some surreal, set in either India or Singapore.
"It is a surreal story with a comic touch but it has a serious message of peace in it," added the 41-year-old author.
In the title story, Mr Anjum has an imaginary Prague-born writer, Kafka, who travels to Ayodhya at a time when the country was tense and waited for the Supreme Court judgement on the Babri Masjid-Ramjanambhoomi dispute with bated breath.
Mr Anjum's other books include 'The Resurgence of Satyam', 'Iqbal: The Life of a Poet, Philosopher and Politician', and more recently, 'Startup Capitals: Discovering the Global Hotspots of Innovation'.
Also launched during the festival was the 'Loss and Laws and Other Tamil Short Stories' by Tamil journalist Jayanthi Sankar and translated into English by Usha Nagasamy, a Further Education college lecturer who is a non-Indian resident from London.
Ms Sankar, who is a Singapore citizen and works with the Tamil Murasu newspaper here, said her book is based on the observations and experiences of the author's 26 years of life spent in fast-changing Singapore.
There are 17 short stories in this collection - all chosen from the 99 short stories written by the author over a period of 17 years.
The title story, Loss and Laws, is based on the experience of a domestic worker from India who unknowingly becomes the victim of the strict laws of Singapore, she said.