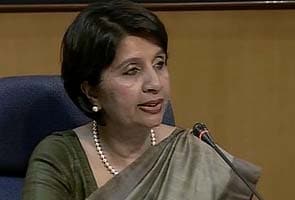 New Delhi:
In a sign that the Ministry of External Affairs is finally getting tough on sexual offenders within its ranks, Foreign Secretary Nirupama Rao has issued a stern statement warning potential offenders of serious consequences.
Rao has written to all the heads of missions saying, "The Ministry will deal with incidents of sexual misconduct and domestic violence with zero tolerance and will take punitive measures against offending officials."
"Any act of domestic violence or sexual misconduct will necessitate immediate recall of the officer and his dependents," her statement adds.
The statement comes in the wake of the recent incidents of two Indian diplomats, Anil Verma and Alok Ranjhan Jha, who are being recalled from the UK and the UN respectively following allegations of domestic violence and sexual misconduct.
Diplomat Anil Verma, serving at the Indian High Commission in London, was recalled to India after being accused of domestic violence by his wife Paromita. Verma later alleged that he was subjected to harassment by his wife and her family. UK had asked for Anil Verma's diplomatic immunity to be waived.
Alok Ranjan Jha, a diplomat posted to the Indian Mission in New York, was called back for misbehaving on a flight. The 2002 civil services topper flew to New York on Air India but, sources say, got drunk and misbehaved with a female co-passenger, the wife of a senior IAS officer.