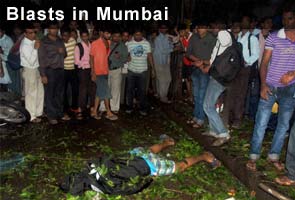 Mumbai:
The maximum casualties in today's blasts here are reported from famous jewellery market Zaveri Bazaar, which has been on the radar of terrorists for almost two decades now with their first attempt made in 1993.
The posh south Mumbai market was first targeted in August 1993 when 13 serial blasts rocked the country's financial capital killing 257 people and injuring over 700 others. The police had then succeeded in defusing a bomb kept in a scooter parked at Zaveri Bazaar.
However, the terrorists were successful in August 2003 when blasts at the Bazaar claimed 54 lives.
The congested Zaveri Bazaar has a number of shops located in its narrow lanes and is often abuzz with activity and heavy footfalls throughout the year that makes it difficult for people to move.
Today, the blast took place outside a famous eatery where people generally meet for a quick snack after office hours. This place is crowded the most in the evenings.