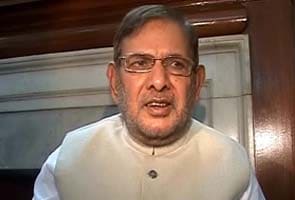 Bhopal:
Janata Dal (United) President Sharad Yadav today stunned many at a press conference in Bhopal when he called a woman reporter "beautiful."
The journalist asked him whether he prefers Madhya Pradesh or Bihar - he has represented both in Parliament.
The chief of the Janata Dal (United) dodged a bullet by saying, "The whole country is beautiful."
Then came the unexpected remark- "Even you are very beautiful," he said.
Politicians have been caught making sexist remarks over the last few months. Just a few days ago, Union minister Vayalar Ravi made deeply derogatory remarks to a woman reporter who asked him about the Suryanelli rape case in Kerala, which involves a woman who was sexually assaulted by 42 men in 40 days. "Do you have anything personal against Kurien? I am sure you do. Has something happened between you and him in the past?" the minister asked the reporter; he apologised the next day.