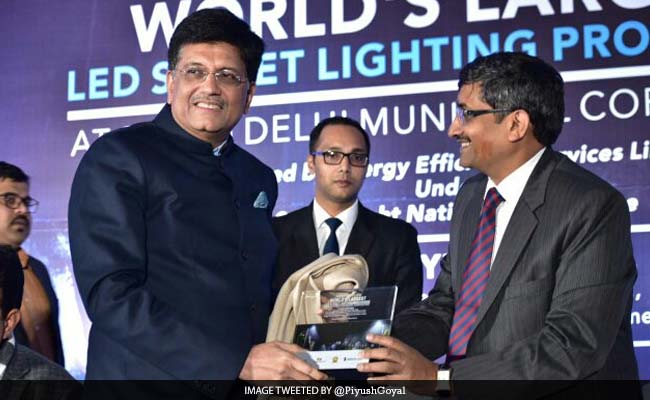 New Delhi:
Union Power Minister Piyush Goyal on Monday launched the "world's largest" LED street light replacement project completed by SDMC in south Delhi wherein two lakh conventional street lights have been replaced with energy efficient LEDs.
The minister also launched the second phase of the project for installation of 75,000 more LED lights in the South Delhi Municipal Corporation (SDMC) area with special focus on the installation of LED light in parks, dark spots and high mast lights. A dedicated SLNP app for immediate resolution of the complaints about faulty street lights too was launched by him.
The initiative under the Street Lighting National Programme being implemented by the Energy Efficiency Services Limited of Ministry of Power, will save 6.10 crore units of electricity per year thus reducing the electricity bill by 54 per cent.
Speaking on the occasion Mr Goyal said that the SLNP programme is being presently implemented in 14 states including Delhi.
"Out of total 15.40 lakh street lights replaced with LEDs in the country, Delhi has exhibited an excellent performance by replacing two lakh conventional street lights with the LED lights in the shortest possible time," he said.
Delhi has also crossed the target of 50 per cent saving in the expenditure on street lighting as mandated in the Street Lighting National Programme launched by Prime Minister Narendra Modi on January 5, 2015, he added.
SDMC commissioner Punit Goel said that the eco-friendly LEDs will help curb release of carbon dioxide gas in the atmosphere by 44,000 tonne per year.
He said that SDMC and SECI have inked an MoU for providing solar panel on the roof top of 400 municipal buildings. In the first phase only 40 buildings have been selected for installation of 2.5 MW solar roof top panels and the cost of installation, Rs 17 crore, will be recovered within 7 years.
Following this, the SDMC will get free electricity up to 18 years and will be able to sell the surplus power to the discoms, he said.
South Delhi Mayor Shyam Sharma and other leaders of the civic body were present on the occasion.