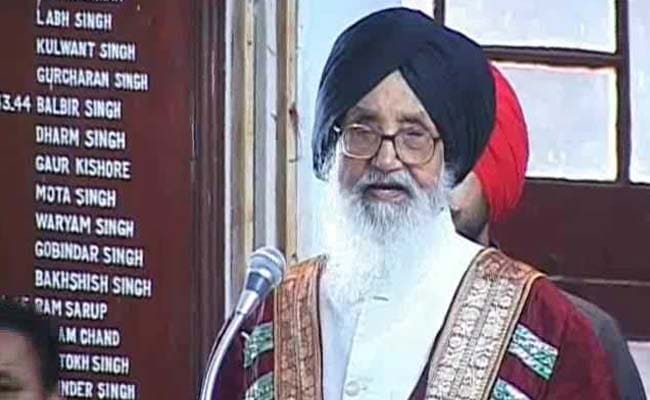 Patiala:
Chief Minister Parkash Singh Badal today said he would not allow to succeed any force inimical to the state's progress and disrupt its hard-earned peace.
"With their vested interests, some people are actively working to bring black days back in the state but I assure you that they will not succeed," Mr Badal said while addressing a gathering in Patiala after installing Bhagwan Parshuram Chair for Indian literature and Culture at Punjabi University.
He said in the past, the state had suffered a lot due to such conspiracies and the SAD-BJP government would foil any designs detrimental to the state's peace and progress.
Mr Badal asked the media and common public to join hands to ensure peace and communal brotherhood in the state and said division on religious lines must be avoided and it should not be misconstrued as communalism.
Asking people to refrain from identifying gurus, saints, and seers on communal lines as "they belong to all humanity" he said, people must overcome the parochial considerations of caste, colour and creed to celebrate all religious functions.
Mr Badal said the government follows Sikh gurus to carve an egalitarian and secular society by observing at state-level functions days important for respective communities.
The SAD-BJP alliance, he said, was always ready to redress the problems faced by any community in the state, and that he was always available for the people and anybody could meet him at anytime for any work.
"Unlike my predecessors who behaved like Monarchs by maintaining a distance from the masses, I am always available to the people to serve them," he added.
Mr Badal said the state government has spent nearly Rs 1000 crore for perpetuating the rich cultural and historical legacy of state by creating a network of several memorials viz Virasat-e-Khalsa, Baba Banda Singh Bahadur War Memorial, Chotta Ghallugara and Vadda Ghalugarra memorials.
Besides, several other state of art memorials like Jang-e-Azaadi, War Heroes Memorial-cum-Museum, Baba Jiwan Singh Memorial, Sri Guru Ravidass memorial were in line.
Mr Badal said the sole aim of constructing these memorials was to keep younger generations abreast with glorious and rich cultural and historic legacy of the state.
Also on the occasion he urged the Centre to introduce 'Crop Insurance Scheme' to safeguard farmers' interest. He said hard working and resilient farmers have over- exploited available natural resources in - fertile soil and water - to make the country self-reliant in food.
Mr Badal bemoaned however that in wake of escalating cost of farm inputs coupled with non-remunerative MSP farmers were on the verge of economic disaster today.
"So need of the hour is to provide crop insurance and remunerative prices to the farmers for bailing them out of agrarian crisis," he added.