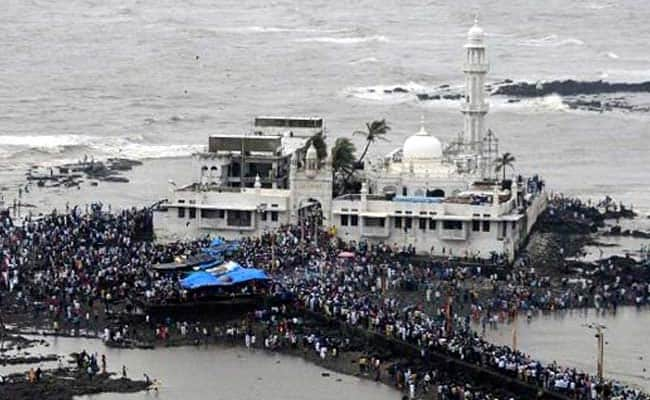 Mumbai:
The Bombay High Court is likely to pronounce on Tuesday its much-awaited verdict on a petition challenging the ban on women to the burial area of the saint inside the famous Haji Ali dargah in Mumbai.
A division bench of Justice VM Kanade and Justice Revati Mohite-Dhere, which had heard the petition filed by women activists Noorjehan Niaz and Zakia Soman, and NGO Bharatiya Muslim Mahila Andolan, had reserved its orders in the matter on June 9.
The petitioners contended that women were permitted entry upto the grave (mazar) of the Muslim saint Sayyed Pir Haji Ali Shah Bukhari between 1865-2012.
Later, they contended that trustees denied women devotees access to the grave which tantamount to gender discrimination and violated their Constitutional rights.
The judges had advised the petitioners to discuss and resolve the issues amicably with the shrine trustees, but that effort had failed.
The shrine was in the news since April when the Bhumata Brigade president Trupti Desai and her band of women attempted to storm the premises but were prevented by police.
Later, a group of NGOs united under the banner of 'Haji Ali For All' to campaign for the cause.
On May 12, they were peacefully allowed to offer prayers upto the permitted access, around four feet from the grave and Desai issued an ultimatum to the trustees to full access within a fortnight.
On Monday, Ms Desai offered a special pooja at the equally famous Shani Shingnapur Temple in Ahmednagar district praying for victory to women's cause at Haji Ali shrine.
The women activists have said if they court verdict is in their favour, they would rush to offer prayers at the famous pilgrim site.
The trustees have maintained the stand that permitting women upto the grave of the saint would be "anti-Islamic" and claimed immunity as it was a "minority trust".
The Haji Ali dargah of the 15th century Sufi saint is built on a tiny rocky islet around 500 metres from the Mumbai shoreline at Worli, accessed by a narrow pathway.
During high tide, the pathway is completely submerged, cutting off the islet from the mainland, as are also the approximately 50,000 devotees of all faiths who come to pray daily.