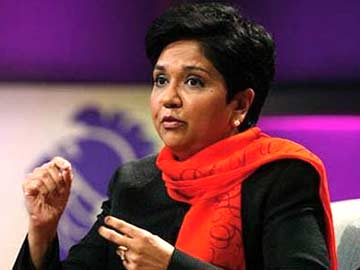 New York:
In a discussion that has gone viral on the Web, PepsiCo's India-born CEO
Indra Nooyi
, counted among the world's most powerful women, has acknowledged that it is difficult to maintain a work-life balance.
"I don't think women can have it all. I just don't think so. We pretend we have it all. We pretend we can have it all," 58-year-old Ms Nooyi told David Bradley, owner of the Atlantic Media Company, at the Aspen Ideas Festival in Colorado this week. (
Read story here
)
Ms Nooyi said she has died "with guilt" several times as she tried to bring up her two daughters with her husband of 34 years. She recounted that she felt guilty for not being able to attend several activities at her daughters' school as she could not take time off from work.
She talked about support systems that career women have to build. "...every day you have to make a decision about whether you are going to be a wife or a mother, in fact many times during the day you have to make those decisions. And you have to co-opt a lot of people to help you. We co-opted our families to help us. We plan our lives meticulously so we can be decent parents. But if you ask our daughters, I'm not sure they will say that I've been a good mom. I'm not sure. And I try all kinds of coping mechanisms," she said.
Some of her remarks have struck a deep chord with other women juggling a career and home and are also being hotly debated on social media. Like when she said, "My observation... is that the biological clock and the career clock are in total conflict with each other. Total, complete conflict. When you have to have kids you have to build your career. Just as you're rising to middle management your kids need you because they're teenagers, they need you for the teenage years."
She added: "And that's the time your husband becomes a teenager too, so he needs you. They need you too. What do you do? And as you grow even more, your parents need you because they're aging. So we're screwed. We have no...we cannot have it all."
Ms Nooyi is the fifth CEO in PepsiCo's 44-year history. She recounted the day 14 years ago when she was told that she would be made president of PepsiCo and be named to the board of directors.
She said she was "overwhelmed" but her mother's reaction was, she said, "let the news wait. Can you go out and get some milk."
Ms Nooyi recalled her mother telling her, "let me explain something to you. You might be president of PepsiCo. You might be on the board of directors. But when you enter this house, you're the wife, you're the daughter, you're the daughter-in-law, you're the mother. You're all of that. Nobody else can take that place. So leave that damned crown in the garage. And don't bring it into the house."
"You know I've never seen that crown," the corporate honcho said.