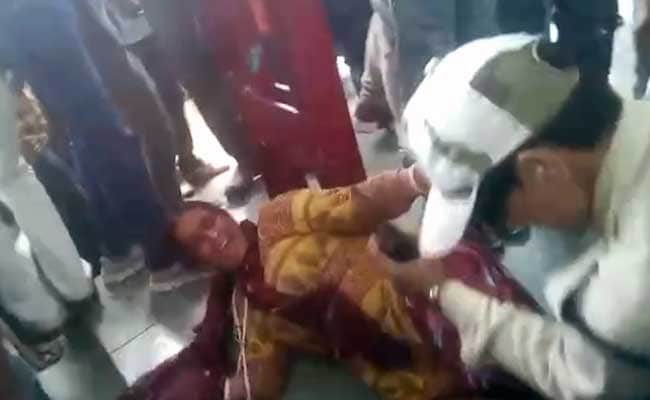 Highlights
The women said the people who attacked them belonged to Bajrang Dal
They said they had permits for buffalo meat, which were torn by the mob
BJP leader says Bajrang Dal assists police, but doesn't break the law
Mandsaur, Madhya Pradesh:
The two women beaten up on suspicion of possessing beef in Madhya Pradesh -- an incident that triggered a screaming match in Parliament -- have said they were targeted by members of the Bajrang Dal. Preliminary investigations indicate that the woman had buffalo meat in their possession, not cow meat.

"As soon as we got down from local train, men and women confronted us, asking what we had in our bag," Salma told NDTV in an exclusive interview. The men, she said, claimed they were from Bajrang Dal and were questioning them as they thought the women were carrying beef.

"We told them its buffalo meat and we had permit for it. But they tore up the permit and started verbally abusing us and beat us right in front of police," she added.

A cellphone video that surfaced on Tuesday had showed a group of women slapping and punching the women - Shamim and Salma -- at the railway station in Mandsaur, 340 km from Bhopal. A huge crowd raised slogans of "gau mata ki jai". The police were seen making only half-hearted attempts to stop the attack.

State BJP leader Himmat Dangi said members of the Vishwa Hindu Parishad and Bajrang Dal "regularly assist the police in such cases," and were present on the platform on Tuesday. "But the people at the platform got offended after knowing the women were carrying beef and beat them up. Bajrang Dal never takes the law in its own hands," he added.

The police have filed a case against unknown attackers. The women, the police said, had 30 kg of buffalo meat for which they had no permit, which is illegal in the state.


The police action, however, came 24 hours after the incident. Earlier on Tuesday, the local police station in-charge claimed he was not aware of any attack on the women.
"We have no information of any attack on the women. If we receive a complaint we will investigate," MP Singh Parihar, the top officer at the local police station had told NDTV.
In parliament, the opposition took on the government, calling it "anti-Dalit" and "anti-women".
BSP chief Mayawati challenged union minister Mukhtar Abbas Naqvi, saying, "I want to ask Mr Naqvi, women of your community have been attacked. You must answer to this house. Muslim women were assaulted in the name of cow protection - it is shameful and unacceptable."

"We are not against gau raksha (cow protection). But for that, Dalits and minorities cannot be targeted," said Congress leader Ghulam Nabi Azad.