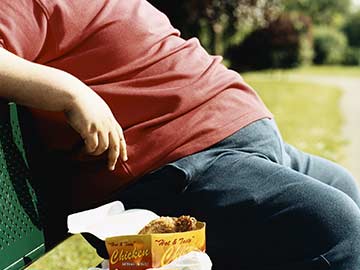 Kolkata:
India, with 41 million obese people, ranks third after the US and China in having the highest number of overweight people in the world, says a study.
Together, India and China represent 15 percent of the world's obese population.
The "Global, regional, and national prevalence of overweight and obesity in children and adults during 1980-2013: a systematic analysis for the Global Burden of Disease Study 2013" report highlights nearly one-third of the world's population is obese or overweight.
The study, that was released May 29, spanned 33 years and 188 countries.
It also states the number of overweight and obese individuals globally increased from 857 million in 1980 to 2.1 billion in 2013.
The analysis was conducted by the Institute for Health Metrics and Evaluation (IHME) at the University of Washington and published in The Lancet May 29.
One in five Indian men and women are either overweight or obese.
However, these rates are lower than Bhutan and Pakistan, but higher than Nepal and Bangladesh.
Although the prevalence of obesity has increased over the course of the 33-year study in India, only 3.7 percent men and 4.2 percent women were obese in 2013.
In the last 33 years, no country has successfully reduced obesity rates.
"In the last three decades, not one country has achieved success in reducing obesity rates, and we expect obesity to rise steadily as incomes rise in low and middle income countries in particular, unless urgent steps are taken to address this public health crisis," said Christopher Murray, director of IHME and a co-founder of the Global Burden of Disease (GBD) study in a statement.