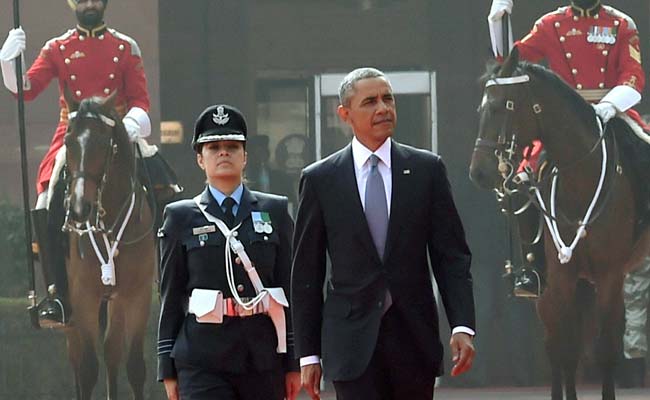 New Delhi:
Surprised at receiving a compliment from US President Barack Obama on Tuesday, Wing Commander Pooja Thakur, who led the Inter-Service Guard of Honour inspected by the US President at Rashtrapati Bhavan, said "it feels good".
Addressing a Town Hall function in New Delhi on Tuesday morning, Mr Obama said the sight of "incredible" Indian women in the Armed forces was one of his "favourite things" on his India visit as he stressed that a nation becomes successful when their women make progress.
"One of the favourite things on this trip for me has been to see all these incredible Indian women in the Armed forces including the person who commanded the guard that greeted me when I arrived (at Rashtrapati Bhavan). It's remarkable. It is a sign of great strength and progress," he said amidst a thunderous applause from the crowd and his wife Michelle, who accompanied him to the venue at Siri Fort Auditorium.
Reacting to this, a surprised Ms Thakur told PTI, "It feels good that we have been able to achieve our aim of giving him a befitting Guard of Honour. I am glad that he has appreciated".
The defence forces, in a first, chose women officers to lead their marching contingents during the Republic Day parade on January 26.
Wing Commander Thakur of the Indian Air Force led the ceremonial welcome of the US President at the Rashtrapati Bhavan on Sunday.
Pooja Thakur, who joined IAF in 2000, belongs to the administrative branch and is currently posted at 'Disha', the publicity cell under the Directorate of Personnel Officers at the Air Force Headquarters.
As part of her duty, she was deeply involved with the initiation and development of the IAF mobile game "Guardians of the Sky" which was visualized as a new and innovative step to reach the mobile-friendly tech-savvy students.