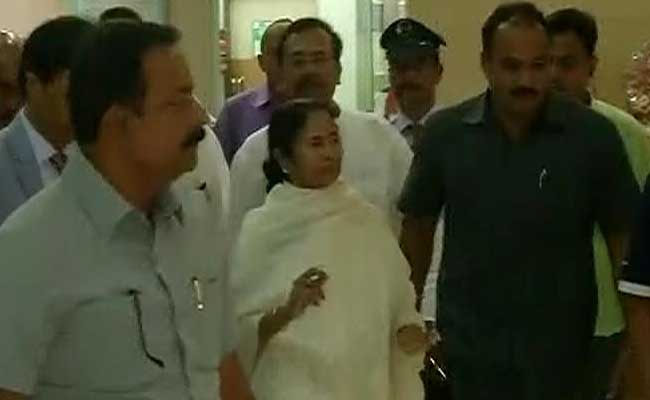 Bhubaneswar:
West Bengal Chief Minister Mamata Banerjee today visited two jailed Trinamool Congress lawmakers at a hospital in Bhubaneswar and expressed shock at the state of health of the leader of her parliamentary party Sudip Bandyopadhyay, arrested for links with a chit fund case.
Mr Bandyopadhyay was arrested in January and Tapas Paul in December in the Rose Valley case.
"Sudipda is totally bed-ridden. He has lost about 17 to 18 kg in the last four months. He said he was devastated, physically and mentally, and broke down and cried when we met," Ms Banerjee said after meeting him this evening.
"We have worked together a long time. He has never done anything wrong," she added.
The CBI which had arrested Mr Bandyopadhyay had gone to court opposing the West Bengal chief minister's meeting with him. But the court permitted the meeting.
"I thank the judge who has allowed me to meet both Sudipda and Tapas," she said.
Doctors, Ms Banerjee said, said Mr Bandyopadhyay's heart condition was not good. They are also worried. "The way he was detained for four months, in jail and in hospital, is very unfortunate," Ms Banerjee said. "We have worked together for many years. He is a very senior political leader."
"I have given him a notebook and told him to write about his anger and his sorrow at his condition," Ms Banerjee said. "I have told him to eat properly."
"They will get justice. We are waiting for the justice. People will give justice," Ms Banerjee added.
Asked if the CBI should have opposed her meeting Trinamool lawmakers, Ms Banerjee said, "He is my parliamentary leader...we are an all India party...Trinamool is in number 3 position... we have 46 MPs....it is better not to say anything...people will give justice....I have highest regard for people."