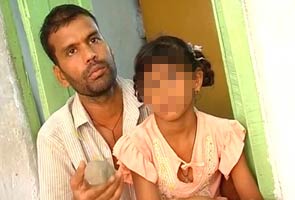 Hyderabad:
Eight-year-old Sonia, a Muslim, who has been adopted by a Hindu family will be presented before the state Human Rights Commission today.
The commission has sought a report on the child's legal status.
Sonia was four when Jayshree and her husband, Papalal, found her alone and terrified after a bomb exploded in Hyderabad. They gauged that she had been orphaned and that she came from a Muslim family.
The couple decided Sonia was destined to be their daughter. But others resisted. Muslim groups wanted the child to be sent to an orphanage so that she would not be raised as a Hindu.
Also the bail petition of Sonia's father Papalal will come up in the court today.
Papalal is in jail on the basis of cases aimed at harassing him till he gives up Sonia because she is a Muslim.
His own brother turned against him. Papalal's mother says that tired of being ostracized by extension, her younger son accused Papalal of attempting to molest his wife. The family is desperate for the amount required for his bail - Rs. 30,000.
Some lawyers have approached a local court to explain Papalal's predicament and have offered free services to his family.
If you'd like to help Papalal and his family, please send your contribution to
:
Jai Sree Ravi
Account No 52206009072,
State Bank of Hyderabad,
Moghulpura Branch,
Hyderabad
Andhra Pradesh
India
Additional details for online transaction
:
Branch Code 20596
MIRC Code 5000004037
IFSC/RTGS/NEFT/SBHY00 20596
Swift Code: SBHYINB B002
Get Breaking news, live coverage, and Latest News from India and around the world on NDTV.com. Catch all the Live TV action on NDTV 24x7 and NDTV India. Like us on Facebook or follow us on Twitter and Instagram for latest news and live news updates.