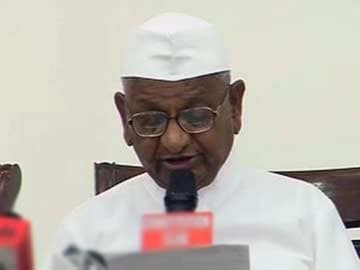 New Delhi:
Anna Hazare, 76, will begin an indefinite hunger strike on Tuesday to demand that Parliament urgently clear the anti-corruption Lokpal Bill.
"I have written to the Prime Minister saying that his government gave me false assurances," said Anna at a press conference in Delhi today.
The Gandhian announced a new platform for his latest agitation, the "Jantantra Morcha", which he insisted would be non-political. "Jantantra Morcha will not form a party and will not support any political party," he avowed.
Reaching out to an audience beyond India this time, he also gave out the number of a dedicated call centre that he said will operate from Saturday to address questions on the movement from across the world.
In 2011, Anna fronted a massively popular movement for a new law that would birth a national ombudsman or Lokpal to investigate charges of graft against elected representatives and bureaucrats.
Arvind Kejriwal, now estranged from him, was his right-hand man; they clustered together a group of NGOs and activists who called themselves India Against Corruption until the group split nearly a year ago over Mr Kejriwal's decision to launch a political party to "clean the rot from within."
Anna has said he cannot support a political movement. Last month, he forbade Mr Kejriwal from using his name or image in his campaign for the Delhi state election.
Exit polls show Mr Kejriwal's Aam Aadmi Party making a strong debut, landing more than 10 of Delhi's 70 assembly seats.
In August 2011, Anna fasted for 16 days at Delhi's massive public park, the Ram Lila Maidan, drawing an audience of thousands. He ended his fast only after parliament promised to urgently debate and pass the Lokpal Bill.
Though the bill was passed by the Lok Sabha, it did not clear the Rajya Sabha and has been languishing with a parliamentary committee since May 2012.