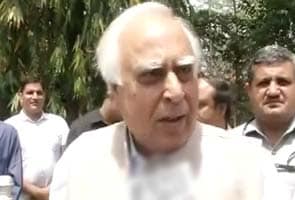 New Delhi:
Politicians in jail can't contest elections. Lawmakers convicted of a crime have to quit immediately - two landmark Supreme Court rulings that could change the face of Indian politics forever.
Now the UPA government is studying both rulings and will consult all parties for a response, if any, to the Supreme Court's verdict.
Union Law minister Kapil Sibal said: "We are scrutinizing the decisions. Once we read the decisions carefully and discuss with other parties, we will comment."
Upholding a Patna High Court decision, the Supreme Court had said that if a jailed person can't vote, a jailed person is not qualified to contest elections either. The verdict means that a jailed politician can't contest even if there's no conviction or chargesheet, which, many politicians say, could open a can of worms.
The verdict has raised concerns about misuse by the police or a party in power for score-settling.
The Communist Party of India-Marxist (CPI-M) said in a statement today: "the drastic judgement will infringe on democratic rights of citizens. A number of false cases are foisted on political activists."
Trinamool Congress MP Saugata Roy called it "wrong in law".
"Vendetta politics and rivals being jailed on frivolous and trumped up charges in not uncommon," said Union Minister Manish Tewari.
Biju Janata Dal's Pinaki Misra pointed out: "You can be arrested and kept in custody for 60 to 90 days."
Political parties are also worried about the possible misuse of the court's verdict disqualifying convicted MPs from staying in office.
The government's affidavit in court had argued against disqualifying convicted lawmakers, but the ruling Congress is now treading cautiously.
"Parties may not want to come out too sharply against verdicts being seen as a big step towards decriminalizing Indian politics," top sources told NDTV. "So any decision has to come from an all-party forum."
But in the poll season, the government may find it difficult to get the opposition on board on such a controversial issue.