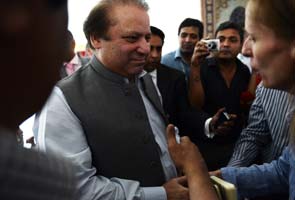 Raiwind, Pakistan:
Nawaz Sharif
, set to be Pakistan's Prime Minister for a third time, has said he is happy to invite India's Prime Minister Dr Manmohan Singh to Islamabad for his oath-taking ceremony, the latest in a series of bonhomous statements that seem to signal that both sides are keen to move forward on the dialogue process.
Even before counting of votes began, Mr Sharif told NDTV on Saturday, "We have to restart our journey (from 1999). So whether India invites me or not, I will visit India."
(Watch)
Hours later, Dr Singh called Mr Sharif to congratulate him on his comprehensive win and extended that invitation. "The people of India welcome your publicly articulated commitment to a relationship between India and Pakistan that is defined by peace, friendship and cooperation. I look forward to working with you and your government," Dr Singh said in a statement, inviting Mr Sharif to India on a "mutually convenient date."
(Read: Full text of PM's statement)
Mr Sharif confirmed that he had extended an open invitation to Dr Singh when they spoke. At his estate in Raiwind he said today, "I will be very happy to extend that invitation (for the oath-taking ceremony). If they come it will be a great pleasure."
The BJP has asked why the haste. The party's Balbir Punj said, "The PM should have waited and seen if Pakistan's attitude towards India improved before inviting him (Mr Sharif) here. It doesn't make sense to call him even before he has been sworn in."
Just a few weeks ago, tension between the two countries had mounted over the death of Indian prisoner Sarabjit Singh in Lahore after he was attacked in jail. Pakistani prisoner Sanaullah died after being similarly attacked at a Jammu jail. Before that, in January this year, the beheading of two Indian soldiers at the border created weeks of tension.
Mr Sharif says he wants an investigation into the Kargil war and is open to investigating the ISI's role in the Mumbai 26/11 attacks. He has already taken on Pakistan's powerful military by asserting that the "PM is the boss, not the army chief."
In February 1999, then Indian Prime Minister Atal Bihari Vajpayee of the BJP had visited Pakistan and had signed the Lahore Declaration on the development and use of nuclear weapons along with his counterpart, Mr Sharif, who calls that a "historic moment."
The peace moves were interrupted later that year when Nawaz Sharif was overthrown by General Pervez Musharraf in a coup in October 1999. Months before that, Pakistan's incursion into Kashmir provoked the Kargil war, fracturing bilateral ties. Mr Sharif was the PM during the Kargil conflict, but has repeatedly said that General Musharraf, the then Army chief, was solely responsible.