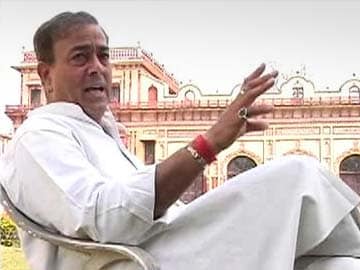 New Delhi:
The Congress today decided to nominate Sultanpur MP Sanjay Singh to the Rajya Sabha from Assam, being seen as a move to pre-empt his walking out of the party. (
Read: Congress names Kumari Shelja, Sanjay Singh for Rajya Sabha
)
The 'Raja of Amethi', 62, is the second outsider the party has nominated to represent the north-eastern state in the House of Elders. There is of course the other Singh, Prime Minister Manmohan Singh, who is into his fifth term as a member of the Rajya Sabha from the state.
There were reports that Mr Singh, who was drafted into politics by his mentor, the late Sanjay Gandhi, was upset with the Congress leadership for persistently denying him a ministerial berth at the centre and that he was hobnobbing with the BJP, which was considering fielding him against Congress vice-president Rahul Gandhi's in the Lok Sabha elections due by May.
Mr Singh, who is married to former national Badminton champion Amita Singh, is no stranger to the BJP. He had joined the party in the run-up to the 1998 general election, and was elected to the Lok Sabha from Amethi on a BJP ticket. He, however, lost to Congress president Sonia Gandhi in 1999, and decided to return to the Congress in 2003.
By sending Mr Singh to the Rajya Sabha, the Congress leadership has obviously sought to buy peace with him. Mr Gandhi's Lok Sabha bid is already being challenged by the Aam Aadmi Party's Kumar Vishwas, and the Congress will not want to open another front in the battle.
Assam unit chief Bhubanewsar Kalita will the party's second nominee from the state. The party has, in a surprise move, fielded union minister Kumari Shelja, as its candidate from Haryana.
The party had yesterday cleared the names of general secretaries Digvijaya Singh, 66, and Madhusudan Mistry, 69, for the Upper House. Sending older leaders to the Rajya Sabha is part of Mr Gandhi's endeavor to infuse fresh blood in the Lok Sabha.