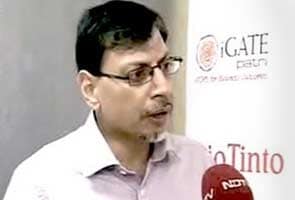 History seems to be repeating itself for Phaneesh Murthy, who, after 11 years, is in a familiar situation.
Mr Murthy had in 2002 quit Infosys, India's second biggest software services exporter, under controversial circumstances after Infosys employee Reka Maximovitch, executive secretary to Mr Murthy, had complained of sexual harassment and wrongful termination of employment. (
Read: Who is Phaneesh Murthy
)
Mr Murthy, one of the youngest directors and the company's head of global sales, was a rising star at Infosys and was seen by many as on track to be the company's first non-founder chief executive. He was among the company's highest paid employees.
Following the sexual harassment lawsuit, Infosys settled out of court. The company paid $3 million to Ms Maximovitch. Mr Murthy was forced to quit Infosys despite strongly denying the accusations throughout proceedings.
"Phaneesh did not disclose to the company management, as an important functionary, that he had a relationship with Maximovitch and also of the fact that she had filed in the court for a restraining order against him," Infosys chairman NR Narayana Murthy had said at a press conference in 2003.
Infosys paid $570,000 to Mr Murthy as part of the final settlement of his dues.
After leaving Infosys, Murthy founded a company that was bought by iGate in mid-2003. In 2011, he teamed up with buyout firm Apax Partners to conduct iGate's $1.2 billion purchase of much-bigger Indian rival Patni Computer Systems.
iGate shares, and revenues, have more than quadrupled since Mr Murthy joined the company, but the scandal threatens to cut short Mr Murthy's long and illustrious career.
He is unlikely to get support from India's influential IT lobby Nasscom, whose chairman Krishnakumar Natarajan today said the iGate board has taken the right decision by sacking Mr Murthy.
(
With inputs from Reuters
)