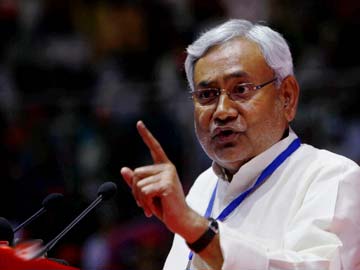 New Delhi:
The BJP today slammed Bihar Chief Minister Nitish Kumar for what they called his silence on the alleged role of the terror outfit Indian Mujahideen in the Patna blasts that targeted Narendra Modi's rally on Sunday.
"You didn't mention Indian Mujahideen (IM) in your speech in Rajgir (on Tuesday)," BJP leader Ravi Shankar Prasad said, directly charging Mr Kumar. "The conduct of the Nitish Kumar government in initiating action against the IM is not of cooperation and coordination but opposition and obstruction."
The Bihar police have said six men planted 18 bombs all over Patna before Mr Modi's 'Hunkar rally', and all belong to the Indian Mujahideen. Three men have been arrested.
Without naming the outfit, the Chief Minister said in Delhi that a thorough investigation was on and the accused would be produced in court for justice. "Let us wait for the inquiry for facts to become clear," he said.
Six people were killed and 83 injured in the seven blasts that took place on Sunday.
Within hours, the Bihar police pointed at the Indian Mujahideen, claiming that the arrested suspects had confessed to planning the attacks, to trigger chaos and a stampede at Mr Modi's rally.
The police said the six accused were tasked with planting three bombs each at and near the Modi rally venue, Gandhi Maidan. Seven bombs exploded on Sunday, while the rest have been defused or detonated by bomb squads.
The police also alleged that the bombers were mentored by a top Indian Mujahideen operative Tehseen Akhtar, who is active in Bihar and Jharkhand.
The biggest leads, claimed the investigators, came from the two men arrested from the Patna railway station after the first blast. They were allegedly trying to assemble a bomb inside the toilet at the station when they were startled by a loud ring from a Chinese made mobile phone in the next stall.
The men dropped the bomb in the cistern of the toilet, and it exploded, injuring one of the alleged bombers, Ainul alias Tarique. His associate Imtiaz Ansari tried to run away with a bag of explosives but was caught. The police say he is the mastermind.