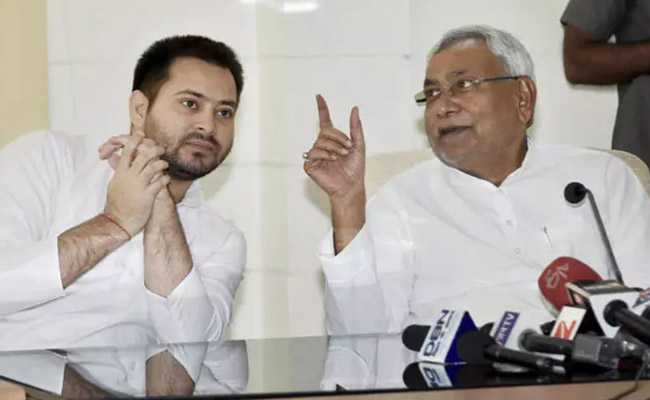 Patna:
Bihar Chief Minister Nitish Kumar rarely responds to barbs thrown at him but the one by his former deputy and now Leader of Opposition Tejashwi Yadav on Monday, did draw his attention.
The heated exchanged took place in the middle of assembly proceedings, Mr Yadav started berating the government over Monday's clashes in Aurangabad, a town 150 km from state capital Patna.
The Chief Minister, who was visibly upset, proceeded to set the record straight - saying Ram Navami had passed off peacefully in the state "with a few exceptions" and punishment for rumour monging will be strict. At the end of it, he had a piece of advice for the Leader of Opposition, 39 years his junior.
"
Suno babu
, you have a long career in politics, hence should be willing to learn," Mr Kumar said. Then turning to Rashtriya Janata Dal leader Abdul Bari Siddiqui, who sat next to him, the Chief Minister said, "Why does anyone not teach him (Tejashwi) some basics?"
Mr Yadav, who was silenced for the moment, however spoke up the minute he left the assembly. Referring to the chief minister, he told reporters that he would not spare "liar
chacha
"(uncle) .
The political heir of Lalu Yadav,
Tejashwi Yadav
is seen to have made his mark in the recent by-elections in Bihar, retaining the Araria parliamentary seat for the party. But he had taken up cudgels against the chief minister since Nitish Kumar dumped Lalu Yadav and the Congress last year and partnered with the BJP to form a new government.
The tottering alliance had broken over the corruption allegations against Tejashwi Yadav and a few other members of his family level led by the BJP. Nitish Kumar had finally pulled the plug when Lalu Yadav refused to have Tejashwi Yadav resign his post.
Since July last year, Tejashwi Yadav has consistently attacked the Chief Minister and his government.
The clashes at Aurangabad town during the Ram Navami processions on Sunday had provided the latest opening. People from both sides had indulged in heavy stone-throwing and arson, which left several persons injured and nearly a dozen shops gutted.