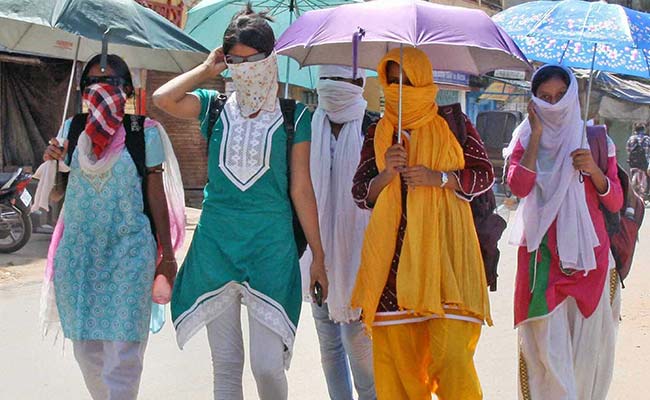 Highlights
Met department warns of heat wave in north, central and east India
Mega heat wave between May 27 - 29 in Delhi-NCR: Met department
Temporary respite from excessive heat likely towards month-end: Met
New Delhi:
It's that time of year again when most people in north, central and west India face severe heat. In fact, having a heat wave every year during the unforgiving summer months of May and June is not unusual. What's worrying though, is the pace at which temperatures across the country seem to tumble records year-on-year.
Air conditioners were heard running non-stop and people on the street could be seen wearing scarves or pouring water on their heads as Delhi experienced a scorching day on Wednesday. The maximum temperature in the national capital breached the 45-degree Celsius mark, five degrees above the season's average.
Later in the day, the weather department warned the residents of Delhi-NCR that 43 to 45 degrees is only a sign of what's to come in the week ahead. The MeT department report stated that north, central and east India is set to face a severe heat wave till the end of the month. For Delhi, it warned of a mega heat wave over the next five days.
"Heat wave conditions are very likely to persist over parts of north, northwest, central and east India between May 23 to 27," an official at India Meteorological Department told news agency IANS.
May 27 however, is unlikely to being any relief from the heat. Continuing his statement, the MeT department official warned that an "intense heat wave is likely to grip the National Capital between May 27 to 29."
According to weather analysts, respite from the excessive heat may only come towards the end of the month - that too temporarily.
In today's forecast, private weather forecasting agency Skymet said, "Easterly winds may cause overcast conditions with mild dust storms. There is a likelihood of lightening and thunder, but that will not have any effect on the temperatures."
On Wednesday, heat wave conditions were reported from many parts of Haryana, Chandigarh and Delhi. Western Rajasthan, Madhya Pradesh and Vidharbha also faced similar conditions, as did eastern parts of Rajasthan, Gujarat, Himachal Pradesh, Uttarakhand and Uttar Pradesh.
According to the weather department, heat wave conditions will continue today in Haryana, Chandigarh, Delhi and Rajasthan.
The forecast also said that nearly 50 per cent of Punjab, western Madhya Pradesh and Vidarbha will have to deal with heat wave conditions, while 25 per cent of Gujarat, eastern Madhya Pradesh, Himachal Pradesh, Uttarakhand, and UP will face similar conditions.
THE STEADY RISE IN TEMPERATURES
In what may be seen as a warning due to climate change, The MeT department pointed out that yesterday's maximum temperatures is select areas were alarmingly above average. In its report, the MeT department said it had observed an increase of more than 5 degrees Celsius above what is considered normal for this time of year.
Some of the regions which recorded the steepest rise in 'above-normal temperatures include parts of Uttrakhand and Himachal Pradesh, which saw a rise of between 3.1 and 5 degrees Celsius above normal.
Delhi remained one of the worst affected areas with Palam, which borders Gurgaon, recording a maximum temperature of 45.2 degree Celsius, five degrees above the season's average. Palam became the warmest region across the National Capital. Gurugram and Faridabad followed at 44 degrees.
(With inputs from IANS)