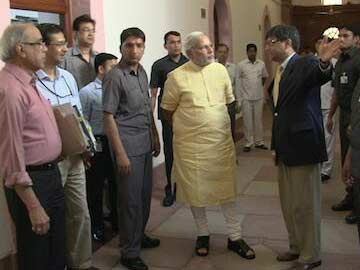 New Delhi:
Prime Minister Narendra Modi said Thursday he "took a round" of the Prime Minister's Office (PMO) and posted his picture with other officials.
"Took a round of the PMO on reaching south block this (Thursday) morning," Mr Modi said in a tweet.
Dressed in yellow kurta and white churidar in the picture which he posted, the picture depicts an official talking to him.
Mr Modi officially took charge as the prime minister Tuesday.