Highlights
Aparna Yadav unsuccessfully contested the UP election from Lucknow
Aparna and Prateek Yadav met Chief Minister Yogi Adityanath around 9 am
Akhilesh and Prateek Yadav were seen on opposite sides of the family feud
Lucknow:
Yogi Adityanath has received many visitors since he became Chief Minister of Uttar Pradesh but one guest this morning merited a double-take. Aparna Yadav, Mulayam Singh Yadav's daughter-in-law, called on the Chief Minister along with her husband Prateek Yadav, the Samajwadi patriarch's younger son. What was described as a "courtesy call" has drawn huge interest days after the BJP came to power in UP, decimating the Samajwadi Party in recent polls.
Around 9 am, Aparna and Prateek Yadav arrived with a bouquet of peach roses at the VVIP guest house where the saffron-robed priest has been staying since his swearing-in on Sunday. The couple left about 20 minutes later.
Aparna Yadav, the "Chhoti Bahu" of the Yadav family and the sister-in-law of former Chief Minister Akhilesh Yadav, fought the election as a Samajwadi Party candidate in a Lucknow seat but lost to the BJP's Rita Bahuguna Joshi by over 30,000 votes.
Before the election campaign, Akhilesh Yadav and Aparna and Prateek Yadav were seen on opposite sides of the Yadav family war. In an attempt to smother talk of a raging feud in the middle of elections, Akhilesh Yadav's wife Dimple Yadav, a star campaigner for the Samajwadi Party, held a rally for her sister-in-law.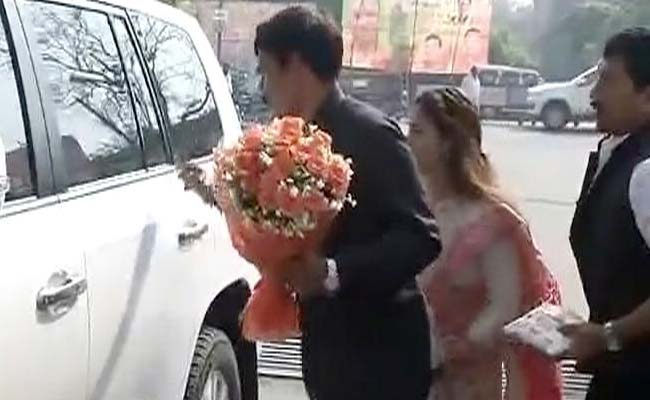 This is not the first time the ambitious social activist has confronted speculation about fraternizing with the BJP.
In the past, questions have been raised about the 26-year-old's admiration for Prime Minister Narendra Modi despite the politics of her husband's family.
In October, Aparna Yadav unabashedly clicked a selfie with PM Modi at a family function that he attended in Lucknow.
As the photo generated controversy and provoked questions about her political leanings, she said, "What's wrong with that? He is everyone's PM."
Aparna Yadav's husband Prateek Yadav is Mulayam Singh Yadav's younger son from his second wife. The 28-year-old businessman has amassed a real estate empire that includes a high-end gym. During the election campaign, he was in news for showing off his electric blue, 4 crore Lamborghini on the streets of Lucknow.