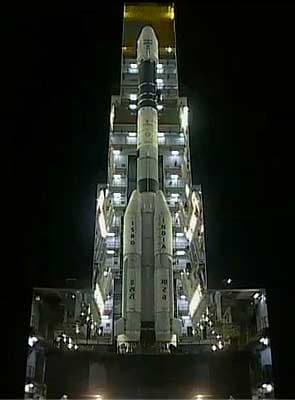 New Delhi:
When India's Rs 205-crore space mission was aborted earlier this month, scientists from the Indian Space Research Organisation (ISRO) blamed a fuel leak in the rocket that was meant to place a communications satellite in space.
NDTV has now learnt that scientists discovered that 750 kilograms of highly inflammable and explosive fuel had leaked from the engine.
The countdown clock was stopped barely 74 minutes before the scheduled lift-off for the Geosynchronous Satellite Launch Vehicle (GSLV) fitted with a cryogenic engine made in India.
Video showed the rocket being splashed with water. Weighing as much as 80 well-fed adult elephants, the vehicle was dismantled at Sriharikota, 80 kilometres from Chennai.
Chairman of ISRO, K Radhakrishnan, said "timely detection and quick action" averted what could have been a massive fire that could have engulfed not just the rocket but the second launch pad facility at Sriharikota. This is the first time ISRO has had to dismantle a rocket that had been almost fully fuelled.
"There is no generic problem with the rocket," Mr Radhakrishnan told NDTV. The launch will be attempted again in December.
India has been trying to push further into the global market for launching commercial satellites.