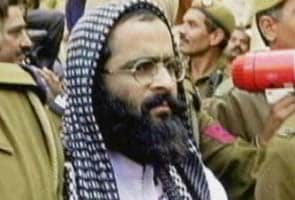 New Delhi:
Barely hours after the Tamil Nadu Assembly passed a resolution urging the President to review the death sentence of Rajiv Gandhi's killers, came a tweet from the Jammu and Kashmir Chief Minister Omar Abdullah.
"If the Jammu and Kashmir Assembly had passed a resolution similar to the Tamil Nadu one for Afzal Guru, would the reaction have been as muted? I think not," Omar tweeted.
Afzal Guru, or Mohammad Afzal, was convicted for plotting an audacious attack on the Parliament on December 13, 2001. Five terrorists had attacked Parliament House in the Winter session, killing seven security personnel, before being shot dead. Afzal was found guilty and sentenced to death by a sessions court in 2002.
In the Kashmir Valley, the death sentence to Afzal Guru is a sensitive issue. The state government fears widespread unrest if he is hanged.
"Omar Abdullah by saying these things wants to address his constituency. In everything you shouldn't bring up state politics. The country's politics is bigger than the state," said Shahnawaz Hussain, BJP Spokesperson.
A similar sentiment was echoed in Punjab, where Devinder Singh Bhullar's clemency petition is an issue in the approaching Assembly elections.
Bhullar is convicted of killing nine people with a car bomb in 1993. The Punjab government has already written to the Prime Minister to review his sentence.
"Passing a resolution in the Assembly is not on the cards. We want to convince the Union Cabinet to reverse the sentence," said Parkash Singh Badal, Punjab Chief Minister.
The responses from Kashmir and Punjab have raised a question: Has Tamil Nadu triggered a copycat reaction?
"The Tamil Nadu resolution is in in sync with popular sentiments of the time but may have only moral force. I don't think it sets a bad precedent," said T. Ramakrishnan, Senior Assistant Editor, The Hindu.
"It sets a bad precedent. Tomorrow not just those on death row, but other criminals and many more may demand lesser punishment and pardon," said Cho Ramaswamy, Political Analyst.
Santhan, Murugan and Perarivalan - all convicted for being part of the group that conspired to kill the former Prime Minister in 1991 - were sentenced to death by the Supreme Court in 1999. In Tamil Nadu, the argument is that nobody was against the death sentence in the aftermath of Rajiv Gandhi's death. Now, it seems unfair, considering it has come so late and the movement they represented, the LTTE, has been wiped out.
What's unsaid, however, is the huge support all these men have in their states. Their actions are justified by many, on account of regional dynamics, that for them have greater resonance than the crimes these men are convicted for.