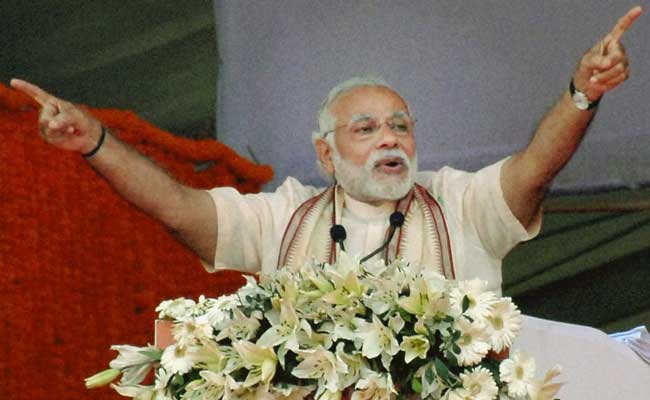 Highlights
PM had said Indians will get 15 lakhs after black money is brought back
RTI applicant asked for exact date when the money will be deposited
PMO said answer sought didn't come under definition of 'information'
New Delhi:
A question under the Right To Information Act regarding Prime Minister Narendra Modi's promise of depositing Rs 15 lakh into every citizen's bank account, has drawn a blank from the Prime Minister's Office. The application had asked for the exact date when the money will be deposited. The PM's Office has now responded that this cannot be considered "information" under the rules of the Right To Information Act, reported news agency Press Trust of India.
In 2014, Mr Modi, while campaigning for the Lok Sabha election, promised to bring back black money from abroad to India and deposit Rs 15 lakh from it to every citizen's bank account. The promise had provided the opposition parties, including
the Congress
and
Lalu Yadav's Rashtriya Janata Dal
, a huge
opportunity to target the government
.
Party chief Amit Shah later said it was a
"jumla"
or election gimmick, which was seen as a self-goal that laid the party open to further ridicule.
The RTI request was filed two years later, on November 26, 2016 -- 18 days after
Prime Minister Narendra Modi
announced
a ban on Rs 1000 and Rs 500 notes
. Applicant Mohan Kumar Sharma has now said complete information has not been given to him by the Prime Minister's Office and the Reserve Bank of India, reported PTI.
In its reply to Chief Information Commissioner RK Mathur, the PM's Office said the answer sought did not come under the definition of 'information' under Section 2(f) of the RTI Act, PTI reported. The applicant had also sought information on how the print media came to have advance information about the demonetisation, another request that the PMO said does not fall under the ambit of Section 2(f).
According to section 2(f) of the RTI Act, 'information' is described as any material in any form, including records, documents, memos, e-mails, opinions, advices, press releases, circulars, orders, logbooks, contracts, reports, papers, samples, models, data material held in any electronic form and information related to any private body which can be accessed by a public authority under any other law for the time being in force.
(With Inputs From PTI)