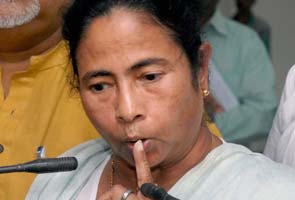 Kolkata:
The six Congress ministers in the Mamata Banerjee government in West Bengal would resign today and withdraw support to it.
The Congress ministers would seek an appointment with the chief minister today to submit their resignations and also meet Governor M K Narayanan to withdraw support.
"The WBPCC would meet at 11:30 am today. Thereafter, six ministers led by Irrigation Minister Manas Bhunia will seek an appointment with the chief minister for submitting their resignation," WBPCC president Pradip Bhattacharya told a press conference here.
"The resignation of the six Congress ministers is in reply to what the TMC ministers did in Delhi," Mr Bhattacharya said.
The party leadership would also meet the Governor when given time to withdraw support and the change of status in the state assembly, he said.
"The resignation of our ministers and withdrawal of support by us is also in protest against deteriorating law and order, growing crime against women and attack on Congress workers in the state," he said.
Describing Trinamool's withdrawal of support to UPA government as 'unfortunate', Mr Bhattacharya said "the TMC chief is answerable to the people for this."
Mr Bhattacharya also described the praise of the Trinamool chief by BJP leaders as 'a threat to the nation' and alleged proximity of CPI(M) leaders to BJP leaders.
Despite the development, the WBPCC president said Congress would request the Trinamool Congress not to field any candidate against its candidate Abhijit Mukherjee, son of President Pranab Mukherjee, in the Lok Sabha by-election at Jangipur on October 10.
"From the political point of view, we have a right to make this appeal as we did not put any candidate at Bankura, Daspur and Basirhat assembly by-elections against TMC", he said.