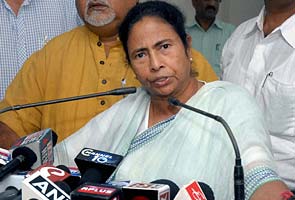 Kolkata:
The chit fund controversy continues to snowball in West Bengal. A confidential note accessed by NDTV shows how market regulator SEBI had raised the issue with the Union Finance Ministry last year which in turn wrote to the state government to take "strict action against unregulated entities raising money from public with a view to defraud people."
Ms Banerjee however has emphatically said she knew nothing about Saradha's shady deals. She said yesterday that SEBI informed her about one group two months ago; she would not name the group.
Meanwhile, fund collection agents of the Saradha chit fund company are becoming louder in their chorus that they put their money and faith in the group because Trinamool leaders were seen holding its hands.
"We put our faith in Saradha because big leaders of the Trinamool, like Madan Mitra, Didi...the chief minister, Kunal Ghosh, Shatabdi Roy, Mithun Chakraborty - when these big people are with them, government people, then would this money be stolen from us?" said an agent Reba Mitra.
Another agent, Julie Potua, said they told clients in their pitch that other companies could collapse but Saradha would not as "Kunal Ghosh is with us, Mamata didi is with us, so invest in us."
An angry Mamata Banerjee alleged yesterday that among the many fund collection agents of the Saradha group now gone bust, are some CPM agents. "Why are you asking me these CPM political questions put on your mouth? This is wrong (sic)," she shouted.
When it was pointed out that Saradha agents were saying this, she said: "Those agents are CPM agents. Saradha group started their business in 2006. They have 160 companies. That time Trinamool was not in power. Please realize. 2006. No Trinamool. Then who appointed their agents? Trinamool? Or CPM? ... This is CPM propaganda. And a few agents may be CPM cadre. I am not going to reply to them."
The agents, however, point out that her Rajya Sabha MP Kunal Ghosh headed Saradha's media interests. Another Trinamool MP, Shatabdi Roy, features in Saradha's promotional material. And Mamata Banerjee had inaugurated two Saradha publications.
Her immediate remedy to the massive turmoil is the appointment of a special investigation team and a commission of enquiry into the chit fund issue. But some lawyers have already petitioned the High Court demanding a CBI enquiry.
Ms Banerjee also wants to pass an ordinance to regulate chit funds and protect investors. But the opposition is not impressed. The CPM's Surya Kanta Mishra said, "She is actually killing time and helping the chit fund people find an escape route."
Saradha group chairman
Sudipta Sen
is absconding; the state government has ordered his arrest.