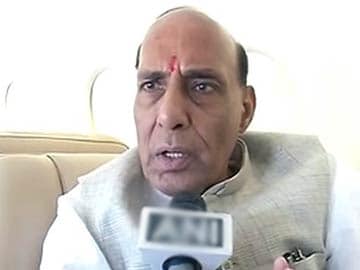 New Delhi:
In a week that has seen among the worst violence in over a decade at the border in Kashmir, Home Minister Rajnath Singh said today, "The PM is monitoring the India-Pakistan situation very closely. We are satisfied with the response of the Army and Border Security Force. We want to assure the nation we will not let it down."
Mr Singh also stressed "The PM does not need to answer" criticism from political opponents that his hectic campaign schedule in Haryana and Maharashtra, which vote next month, appears to have been prioritized over dealing with the border crisis. Yesterday, in his first comments on Kashmir since the violence erupted this week, the PM said, "Everything will be fine soon."
(Read more...)
The Home Minister's statement reaffirms what NDTV reported yesterday - that the PM is unlikely to address those allegations; sources told NDTV the PM has given "broad guidelines" to a team led by National Security Advisor Ajit Doval to handle the crisis. The sources, who did not wish to be named, said the PM had made it clear that "India will not give in to blackmail" and that he has given "a free hand to the forces" to deal with the repeated violations of the ceasefire in Kashmir.
Eight civilians including women have been killed in India this week as Pakistan fired upon Army outposts and villages. India has said it will not hold any talks with Pakistan till the firing stops completely; it has also warned it is not resistant to escalating its own action.
Army officials have said they have been responding forcefully to Pakistan, which claims that nine civilians have died on its side of the border.
The violence this week is among the worst since both countries agreed to a ceasefire along the Line of Control in 2003. It comes a little over a month after India cancelled talks with Pakistan because Islamabad insisted on consulting Kashmiri separatists ahead of the summit, which was scheduled in August.