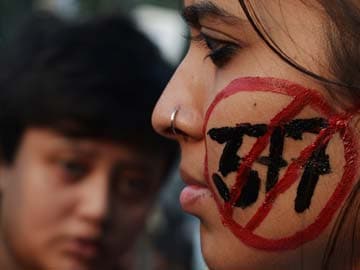 Washington:
Expressing concern over the Indian Supreme Court verdict which ruled that gay sex is illegal, the US has said that it is opposed to any action that criminalises consensual gay sex between two adults.
"We oppose any action that criminalises consensual same-sex conduct between adults. LGBT rights are human rights. We call on all governments to advance equality for LGBT individuals around the world," State Department spokesperson Jen Psaki said yesterday.
"We are in regular touch about these issues and others with India. I don't have anything specific to read out for you in terms of future meetings or conversations about this," she said.
Responding to a question, Psaki said it is for the Indian Government to take a decision or any steps it wants to take to protect the rights of the gay and lesbian community after the Supreme Court order in this regard.
"That's a decision that the Indian government would make. We obviously don't make decisions on behalf of other governments and their legislation. So I expressed our deep concern about any efforts around the world to not recognize that LGBT rights are human rights and that's a message we'll continue to convey," she said.
Meanwhile, a top American LGBT organisation has joined hands with their Indian counterpart in opposing the latest verdict of the Supreme Court, which rules gay sex illegal.
"This is a sad day for India and for the world," said Joe Mirabella, Director of Communications for All Out, a top American LGBT organisation, which has a membership of more than one million.
"No one should have to go to jail because of who they are or who they love. We stand in solidarity with India's human rights community," she said.
India's Supreme Court overturned a lower court ruling from 2009 that decriminalised the love between two men. Now, gays could once again face prosecution under section 377, which makes it illegal to perform 'unnatural offences'. People found guilty of violating section 377 could face 10 years in prison, it said.
"Sadly this ruling now brings the total number of countries that make it a crime to be gay, lesbian, bi, or trans from 76 to 77," Mirabella said. "It is essential that we bring that number to zero. No person should have to sacrifice their family or freedom, safety or dignity, because of who they are or who they love," she said.
India faces an election in May, making the political climate for a legislative change in the near future more difficult, All Out added.