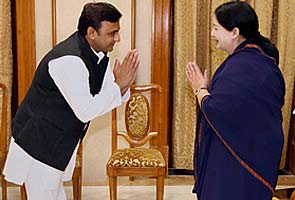 Chennai:
The Samajwadi Party is stepping up its efforts to re-launch a non-Congress and non-BJP Third Front, and promote its president Mulayam Singh Yadav as the front's prime ministerial candidate. The SP patriarch's son, and Uttar Pradesh Chief Minister Akhilesh Yadav, visited Chennai today and his agenda included winning new political friends for his father.
Akhilesh visited Chennai to inaugurate a cultural festival organised by the Pattali Makkal Katchi- backed Vanniyar community. But, he had more than culture on his mind.
Addressing the gathering, Akhilesh said, "You want my father to come forward to lead at the Centre. I should add that only when you support, he would get the strength for that (sic)." Later, speaking to reporters, he added, "Yes, we need a Third Front. Both the Congress and the BJP have failed the poor on many fronts."
Akhilesh also met Tamil Nadu Chief Minister Jayalalithaa but he chose not to brief the media on what transpired between them and whether her party, the AIADMK, too is on his Third Front radar.
As the SP makes its moves, it might want to consider that the PMK is not known to be the most reliable of allies. The party is known to back whichever alliance in Tamil Nadu seems to have a better chance of winning before elections, whether headed by the AIADMK or the DMK.
The party was once a force to reckon with in northern Tamil Nadu, but lately, actor Vijaykanth's DMDK has made inroads into the PMK's stronghold. The PMK drew a blank in the last Lok Sabha polls and won just three seats in the most recent Assembly elections in the state.