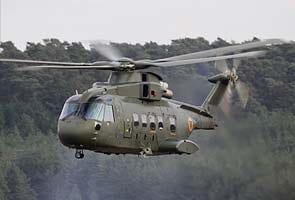 Milan/New Delhi:
The investigating team from India probing the alleged kickbacks in the VVIP chopper scandal has procured some documents from the Italian authorities in Milan, according to sources. The documents are reportedly company papers of AgustaWestland and Finmeccanica.
NDTV has learnt that one of the members of the team, JS Arun Bal, who returned this morning from Milan, had got some of the documents from the Italian prosecutor regarding the controversial Rs 3,600 crore deal which would be examined in the next couple of days.
According to the Press Trust of India, sources said a preliminary inquiry would be initiated in the next couple of days after examining these documents.
The Italian authorities have reportedly agreed to hand over other documents once their probe is completed. One of the two Central Bureau of Investigation (CBI) officers was still in Milan to take some more documents and would be arriving on Monday, the sources said.
The investigating team from India, comprising officials from CBI, the defence ministry and the external affairs ministry, has been reportedly assured by the Italian government-controlled Finmeccanica group, parent company of AgustaWestland helicopters, that it would provide assistance in probing bribery allegations against some Indian nationals.
During a meeting, the Indian investigators had reportedly requested the Italian firm to hand over the report of its internal probe to them so that it could be examined in India and a proper investigation could be conducted.
The Indian team in Milan has already hired two law firms - Chiomenti and Grippo -- to help in coordinating with the Italian authorities.
In 2010, India agreed to buy 12 helicopters from Finmecannica's helicopter division, AgustaWestland, which is based in London. It has been alleged that kickbacks of Rs 362 crore were paid to help secure the deal in favour of the Anglo-Italian firm.