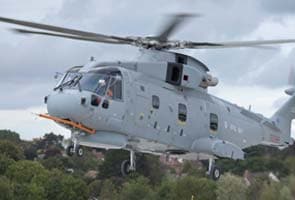 New Delhi:
The Defence Ministry has asked AgustaWestland (AW) to explain within one week its links to software companies headquartered in Chandigarh that were allegedly used to pay kickbacks for a 12-helicopter deal signed in 2010.
The Defence Ministry has asked AW to provide details about its transactions with Tunisia and India-based firms IDS Infotech and Aeromatrix, sources said.
Both firms are based in Chandigarh and are being investigated by the CBI along with former air chief SP Tyagi and three of his cousins for allegedly ensuring that AW won the Rs 3,600-crore deal from India.
India ordered a CBI inquiry after Italian investigators said AW's parent firm, Finmeccanica, had paid bribes to land the helicopter contract.
The Defence Ministry has already warned AW that it is likely to cancel the contract. AW has replied, stating that there is no evidence yet that kickbacks were paid. The government has rejected AW's defense.