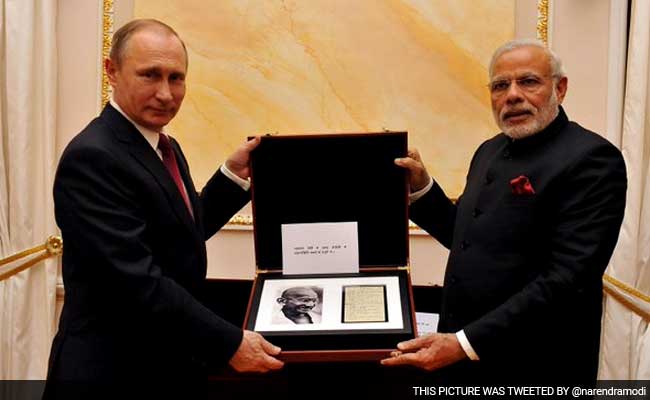 Moscow:
Russian President Vladimir Putin presented Prime Minister Narendra Modi a page from the diary of Mahatma Gandhi and an 18th century Indian sword, an official statement said on Thursday.
President Putin presented the items to PM Modi while hosting the latter for a private dinner on Wednesday evening
"President Putin presented to the Prime Minister a page from the diary of Mahatma Gandhi. The page contains Gandhiji's handwritten notes" the Prime Minister's Office said in a statement.
Vladimir Putin also gifted Prime Minister Modi a late-18th century Indian sword from Bengal province that features intricate silver artwork.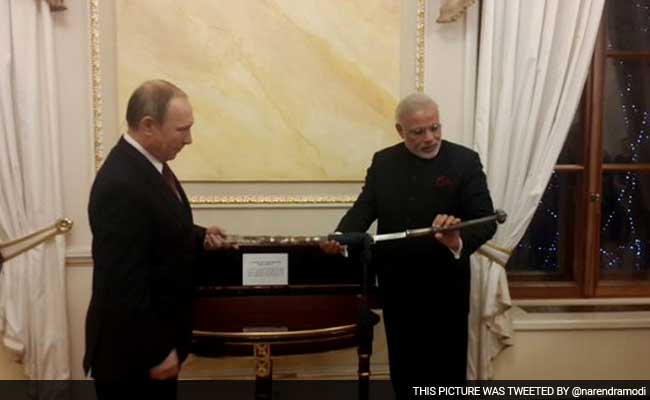 PM Modi arrived in Moscow on Wednesday to a red carpet welcome for a two-day visit during which he will attend the 16th India-Russia annual summit meeting.
During this visit, a raft of agreements spanning a broad spectrum of sectors are expected to be signed following summit-level talks on Thursday between the two countries with trade being a major focus area.
PM Modi and President Putin are scheduled to meet a delegation of Indian and Russian CEOs at the Kremlin.
PM Modi will address a gathering of 'Friends of India' and also meet members of the Indian community in Russia.
The Prime Minister's itinerary includes a visit to Russia's National Crisis Management Centre (NCMC) in Moscow on Thursday.
The NCMC is a multi-level coordination centre designed to provide inter-agency coordination and alert the people about the threat of emergency situations. The capabilities of the NCMC include state-of-art real time monitoring, data collection, analysis and modelling.