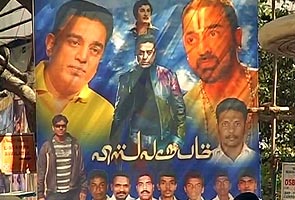 New Delhi:
After actor Kamal Haasan's movie 'Vishwaroopam' was banned in Tamil Nadu by the state government, the centre has appointed a judicial commission to review the Cinematography Act, which creates and empowers the national censor board.
The Tamil Nadu government headed by J Jayalalithaa banned the Rs 95-crore 'Vishwaroopam', which had been cleared by the censor board, after Muslim groups objected to some scenes in the film. On Saturday, the actor agreed to delete the audio in seven scenes. The movie -already playing in other states -will release on Thursday in the home state of Kamal Haasan, who has acted in, directed and produced the film.
The eight-member committee appointed by the centre today is headed by the by retired Chief Justice of Delhi High Court Mukul Mudgal, and includes Sharmila Tagore, who headed the censor board, and award-winning lyricist and parliamentarian Javed Akhtar.
Information and Broadcasting Minister Manish Tewari said that the group will look into whether there is a need to make the "statutory architecture or the regulatory framework" of the Act more "robust" to ensure that states do not over-rule the censor board.
According to the Seventh Schedule of the Constitution, the Centre has the authority to decide whether a film is fit for screening, which is exercised through the censor board or Central Board of Film Certification.