New Delhi:
After Vijay Mallya's sensational claim about meeting Finance Minister Arun Jaitley before leaving, questions have been raised about the notice and why he was allowed to leave. Over the past two days, there has been non-stop sparring between the ruling BJP and the Congress, each accusing the other of proximity to Mr Mallya. Congress president Rahul Gandhi has alleged that the CBI had aided fugitive tycoon Vijay Mallya's "great escape" by changing the "detain" notice to "inform", adding that it was "inconceivable" that this was done without PM Modi's approval.
Rahul Gandhi alleged that Congress leader was witness to a "15-minute sit-down meeting in parliament" just two days before the fugitive tycoon's flight to the UK. Arun Jaitley said the claims were "factually false" and denied giving a formal appointment to Vijay Mallya since 2014, adding that he met him in the parliament corridor. Mr Jaitley said he had been briefed about Vijay Mallya's "bluff offers" earlier, and he had curtly told the businessman that "there was no point talking to me and he must make offers to his bankers".

Here are the LIVE updates on the Congress presser in the Vijay Mallya Case: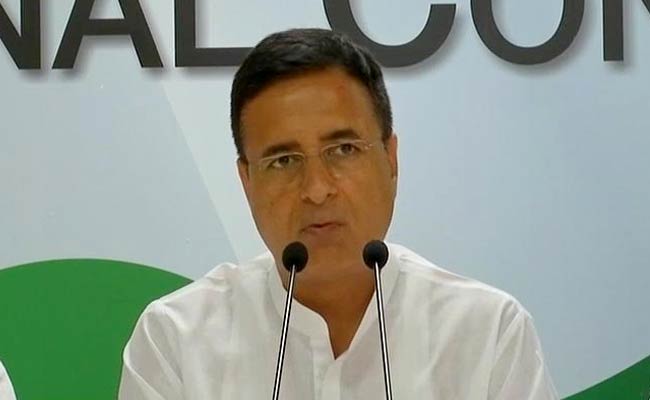 Randeep Surjewala attacks the government on the Vijay Mallya issue in a press conference today. Here are the main pointers from the presser:
Why did Arun Jaitley not state facts on the parliament floor? Why did he not tell the CBI, fraud investigative office and MEA to detain Vijay Mallya's passport when he knew Mallya was going to London?


SBI, 17 banks consortium had given him loans. Supreme Court's Dushyant Dave said SBI's top management had asked how Vijay Mallya should be tried. He told them that his passport should have been taken immediately. Next day, the management didnt meet him.


Why didn't the banks take any action when Mallya disappeared?


Whats the reason why banks didn't take any action on 5th march 2016, when Mallya had disappeared 3 days back? Doesn't this show that a conspiracy was underway to fool the banks and make Mallya disappear?


India's Attorney General and Jaitley's friend Mukul Rohatgi said Mallya had been given the advice to run away. We are not saying this. The AG did. Was this Modi Government's aim?


In July 2015, Mallya had become 7,000 crore defaulter. So what reason is there that none of the banks didn't take action against such a defaulter? Who was asking investigating agencies, banks to not take action?


CBI has become Comfort Bureau Of BJP.


In raids on Kingfisher, Mallya's documents were taken. In 5 days after the raids, CBI released lookout notice to detain. Then the CBI dilutes the notice.


Till July 2015, Mallya had defaulted to the tune of 7,000 crore. What is the reason that banks didn't file a case against Mallya? Who in the government was nudging banks to not file a plea against Mallya. CBI's role is dubious. BJP wants to be accountability-free.


CBI raided Mallya, KFA, recovered documents. CBI issued a lookout notice to detain on the basis of documents recovered. Don't know who instructed CBI that it changed the order.