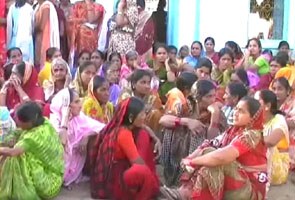 Nagpur:
The gushing in of bone-chilling cold wave has spelt disaster for the cotton farmers in Vidarbha. Nine farmers have killed themselves since Thursday as snow and hail ruins an almost-ready crop.
"My brother was very worried after the cold winds and the hail killed the crop. Two days ago, he talked about it with my wife. We did not think he will kill himself," said Dhanraj Pohekar, a resident of Taamaswaadi village and brother of deceased farmer Rameshwar Pohekar.
The struggle of these farmers against rising input costs is already desperate. The crop failure means there is no way to repay existing loans that will now gather interest.
"I spent Rs 40,000-50,000 on every acre of crop. The crop was great. But in two days, a cold wave and snow made the fields white. Everything was destroyed," said Motiram Raut, a farmer.
Vidarbha has seen nine farmer suicides in the last five days, and the figure may go up. As usual, the much-promised state government relief is nowhere in sight.
The lack of timely intervention is evident as Maharashtra continues to post the most number of farm suicides in the country for the 10th year running.
In the latest data released by the National Crime Records Bureau show 17,368 farmers killed themselves in 2009. That's an average of 47 deaths a day. These figures scream louder than any words.