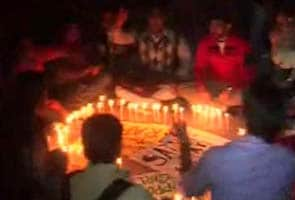 Singapore:
The 23-year-old medical student whose savage gang-rape on a moving bus in Delhi triggered outrage and protests through India died in a hospital in Singapore at 4.45 local time (2.15 India time).
Her parents were by her side. Amanat's body has been taken in a police van to the Singapore general hospital; after formalities, her body and the girl's parents will be flown back to India today for last rites.
"She was courageous in fighting for her life for so long against the odds but the trauma to her body was too severe for her to overcome," a statement by the Mount Elizabeth hospital said.
"Despite all efforts by a team of eight specialists in Mount Elizabeth Hospital to keep her stable, her condition continued to deteriorate over these two days. She had suffered from severe organ failure following serious injuries to her body and brain," said the statement by Kelvin Loh, CEO of the hospital.
For 13 days, the student fought for her life, with a grit that astounded her doctors.
She endured three major surgeries, brain injury and a cardiac arrest at a Delhi hospital before experts decided to move her in an air ambulance to Singapore, where she was treated at the Mount Elizabeth Hospital.
After the monstrous attack on her on December 16, a grid of anger and grief fastened cities across India.
Demonstrators marched every day, demanding a swift trial for the six men arrested for the heinous attack, as well as stricter anti-rape laws and more safety for women.
In messages that she scribbled for her family while on life support systems, she reportedly asked if the six men who had damaged her so badly that her intestines had to be removed had been caught and punished.
Their trial is likely to begin on January 3; the government has promised daily hearings to ensure a verdict is delivered quickly.
Days before she was flown to Singapore, she shared the details of her attack with two different judges. Her testimony was not video-taped but will be used in the trial.
On December 16, the student and a male friend boarded a bus after watching a film when they were attacked by six men who took turns to rape her. They also beat the couple with an iron rod.
The bus kept circling a 31-kilometre stretch in South Delhi, its tinted windows concealing the savagery within as it rolled unstopped through a series of police checkpoints.
Almost an hour later, the couple was thrown from the bus, battered and bleeding; a passer-by phoned the police for help.
With Delhi as the epicentre, the protests scaled up quickly.
Last weekend, the police clashed with thousands of demonstrators in Delhi. An injured constable collapsed; he died in hospital on December 25.
The government has promised to amend criminal laws to include the death penalty for extreme cases of sexual assault.
In Delhi, five fast-track courts will start functioning in January with daily hearings for all rape cases. A burst of measures to make public transport safer at night for women are being debuted.
The 23-year-old had persuaded her parents to sell their small piece of land in Uttar Pradesh so she could move to Delhi to study medicine. Since then, they said recently, their meals are very often
rotis
with
namak
(bread with salt). Their two sons are studying.
Their daughter became India's Daughter.