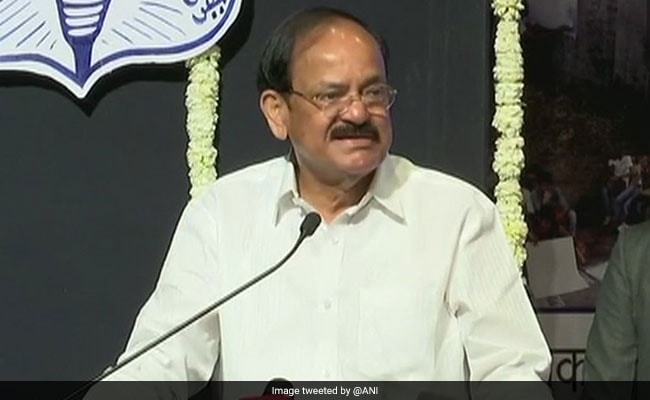 New Delhi:
Vice President M Venkaiah Naidu today said that the world must come together to fight against terrorism and urged the United Nations to come up with "strong, coded actions" to tackle terror, its sponsors and those who are funding and supporting it.
Mr Naidu, in his address at an international conclave, also noted that one of India's neighbours is "aiding and abetting" terrorism while talking about peace. He made the veiled reference to Pakistan, while addressing a gathering of human rights leaders from several parts of the world.
"Terrorism is an enemy of humanity. Some elements are spreading it in the name of religion, but no religion talks about violence. India has suffered the pain. The West, when they became the victims of terrorism, realised the problem," he said.
"In our region too, one of our neighbours is aiding, abetting, funding and training terrorists. And, (it) talks about peace. Terror and talks can't go together," Mr Naidu said.
In his 40-minute speech, the Vice President urged the world to "speak in one voice" to deal with terror globally. "The United Nations, at the earliest, should complete the deliberations (on terrorism) and come up with a strong, united, coded action to tackle terror, its sponsors and those who are funding or supporting it," he said.
"It is the way forward for peace, and for protection of rights of people," Mr Naidu asserted.
The conclave has been organised by the National Human Rights Commission as part of its Silver Jubilee celebrations.
Foreign participants include senior officials from apex human rights bodies in Afghanistan, Nepal, Bangladesh and representatives from Scotland, Croatia and other countries.
Mr Naidu also said that "misuse of provisions of human rights" is a matter of concern, as in recent times.
"Some people, they kill others, destroy public property and then claim human rights violations. Is it right? It has to be curbed, terrorists, extremists, they have to be curbed. Human rights cannot be in mutually exclusive categories. One cannot transgress the rights of others," he said.
Mr Naidu said human rights are enjoyed to bring harmony in the nation and among fellow citizens. It does not confer "unfettered" rights to speak against the state and the nation.
"So, dissent is fine in a democracy but not disintegration. You cannot indulge in violence, kill people and then claim protection under human rights," he said.
When something happens, action is taken against some terrorists or extremists or Maoists, there is "uproar of human rights violations from some activists". "But, some tribals or innocent people are killed, these activists become silent," he said.
"This has to be discussed. No one has a right to work against the unity and sovereignty of the nation. The country has a history of two of its prime ministers being killed," he said.
NHRC chairperson Justice (retired) H L Dattu said the rights panel receives a large number of cases and of the most wide-ranging nature.
"About 98 per cent of the recommendations of the NHRC have been accepted by state government and its authorities," he said.
Home Secretary Rajiv Gauba said it was a "matter of concern that some groups, which preach and practise violence, affecting both civilians and security personnel...they are able to take unfair advantage of human rights architecture and laws as such".