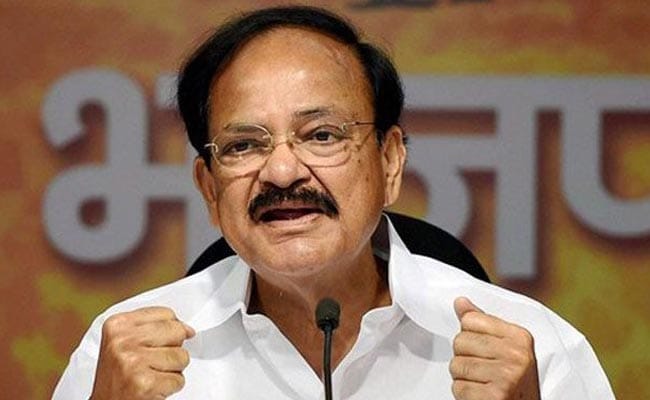 New Delhi:
Union Parliamentary Affairs Minister
M. Venkaiah Naidu
today said political parties must reach a conclusion on the long-pending women's reservation bill and attacked the Congress over the alleged remarks of its leaders.
Participating in a debate on 'Commitment to Constitution' in the Lok Sabha, Mr Venkaiah Naidu also pitched for a common civil code and inter-linking of rivers.
He said there was a need to focus on the women's reservation bill that provides for 33 per cent seats in Parliament and state assemblies for women.
"We have been talking about it but not working (on) it. We must come to a conclusion," he said. The bill was passed by the Rajya Sabha in 2010 but is yet to be passed by the Lok Sabha.
Mr Venkaiah Naidu hit back at the Congress for its criticism of the Narendra Modi government on the issue of intolerance and said party president Sonia Gandhi did not condemn the remarks of Congress leader Mani Shankar Aiyar that Prime Minister Narendra Modi needs to be removed for the resumption of talks between India and Pakistan.
Mr Venkaiah Naidu also referred to Mr Mani Shankar Aiyar's earlier comment about the prime minister selling tea in his childhood.
Congress leader in the lower house
Mallikarjun Kharge
sought to counter Mr Venkaiah Naidu and said Mr Mani Shankar Aiyar was not a member of the Congress Working Committee but a nominated member of the Rajya Sabha.
Mr Venkaiah Naidu accused Assam Chief Minister Tarun Gogoi of remarking that BJP central leaders could not even pronounce the names of their local leaders correctly and that there was an invasion by Hindi-speaking people in Assam.
He said Mr Tarun Gogoi's remarks "create communal tension and spoil harmony".
He also objected to former external affairs minister Salman Khurshid's remarks during a lecture at the Jinnah Institute in Islamabad that India didn't reciprocate well to Pakistan Prime Minister Nawaz Sharif with regard to a lasting peace deal.
The union minister said that the Supreme Court had referred to the need for a common civil code and called for introspection.
"What personal law prevents women from getting equality? We have to introspect," he said.
The Lok Sabha is discussing 'Commitment to Constitution' as part of celebration of the
125th birth anniversary of BR Ambedkar
, regarded as the chief architect of the Constitution. Mr Venkaiah Naidu described Mr Ambedkar as a great social warrior.
"We should visit constituent assembly debates - what was the vision of the members; assess as to what extent we have succeeded; take care of the shortcomings; and address challenges," he said.
Mr Venkaiah Naidu also said Mr Ambedkar favoured inter-linking of rivers.